SHIPS FREE!
Regular price
Sale price
$52.50
Unit price
per
Sale
Sold out
The perfect gift — with nine sample tins in this darling boxed set. Perfect for mothers, fathers, sisters, brothers, uncles, aunts, coworkers, teachers, butchers, bakers, and candlestick makers.
Includes:
Three Green Teas : Green Eyebrow, Gunpowder Green, & Jasmine Green

Three Black Teas: Wuyuan Black, Yunnan Black,  & Lapsang Souchong
Three Other Teas: White Peony, Camilla Flowers, & Jade Oolong
Also available in Four Tin and Twelve Tin configurations.
View full details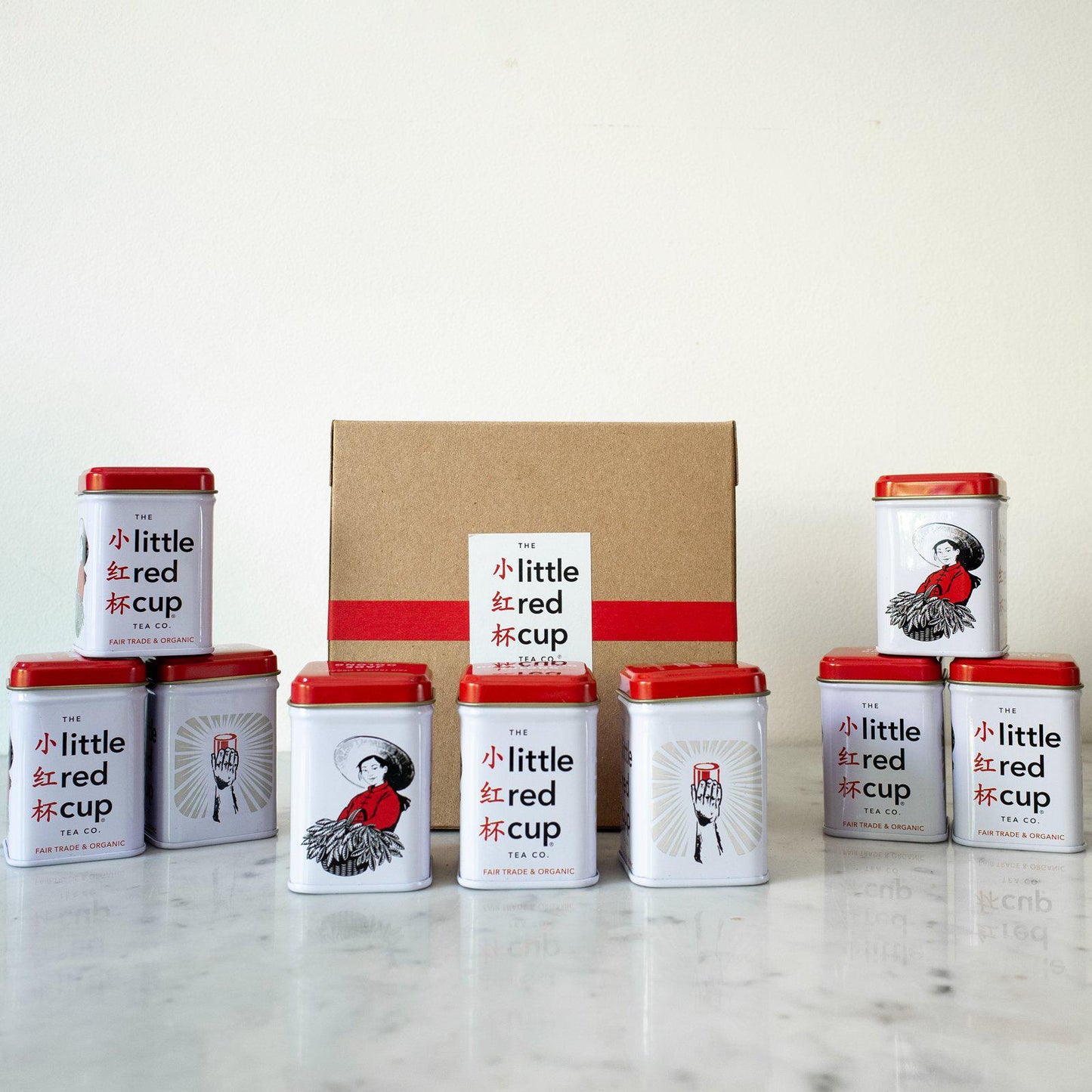 My go-to tea supplier
Wow, these teas are amazing! You can tell their quality after just one cup.
Service is fast, and it feels good knowing these are fair-trade certified and come with love and care. Plus, the little tin cans are so cute!! 10/10 would recommend to anyone.
Excellent way to try new teas!
The tin arrived so well packaged and with a handwritten note. Everything about Little Red Cup is intentionally thoughtful.
These tins are small, but still contain plenty of tea to make 15+ cups depending on how strong you like your tea or how much you reuse leaves. I loved being able to try teas I'd never had a chance to and discovered a real love of unexpected ones. One tip: use a sharpie to write on the top of the tin what temperature and time for each type. Made it much easier (than looking at the website each time).
Beyond the tea and the mission, I just love how engaged the co-founders and President are. Emails are responded to and updates are provided frequently. Highly recommend these as a gift to yourself or others.
Four Tin Sampler
The teas are such good quality and they are the perfect size to order and try new teas!
Just perfect!
I ordered this sampler as a gift for my daughter, but now that I've seen it I want to order some more for other gifts! The teas smelled fresh. The containers were well packed and the personal note enclosed was a nice touch. I love doing business with family run companies.
Came right away!
My husband asked for this for Father's Day so haven't tried it yet, but I think he will love it!
Great gift!
I received this gift for Mother's Day and it is delightful. I've almost finished the black tea already. The whole leaves unfurl beautifully and the flavor is crisp and clear. Also, the tins are charming!
Astonishing Service!!
Within an hour of ordering, my order was packed and shipped and I got it in two days! The packaging is adorable and included a handwritten note with usage advice!! Best service ever!! The tea is intended for a gift box going to a girl in Scotland, and I'm sure she's going to love it!!
The best
I have bought from 7 tea companies and Little Red Cup tea gets my full business. Their teas are perfect as well as their customer service, prompt shipping and response.
Tea sampler
Fantastic stuff - of the highest quality. Courteous, prompt service with an emphasis on making the customer happy. Well done !
Above and Beyond
So, I bought this sampler of teas because it was on sale and I thought it would make a nice gift for a good friend. When Mike, LRC's owner, saw a different name on the card—not mine, but my friend's--he called me to make sure they were handing the package correctly. "Send directly to friend or not?" This kind of personal attention is what makes LRC an outstanding small business. I have bought my tea from LRC for a few years now as the quality of the tea is great and the "above and beyond" service is even better.