Regular price
Sale price
$13.75
Unit price
per
Sale
Sold out
$0.49/serving
The closest herbal tea to actual tea would have to be Camellia Flowers (Cha Hua, 茶花), the flowers of the tea plant itself. Although the infusion of tea flowers is nothing like the taste of any tea, the brew has a certain robust edge that calls to mind the rolling hills and terraces of tea gardens from southern China.
These organic Camellia Flowers, or tea flowers, are a unique entry into the herbal panoply, and bring with them the barest trace of caffeine (one half of one percent by weight — even less when brewed than any decaffeinated tea) as well as the bracing flavor of sunlit slopes from the tranquil hills of Jiangxi.
We fell in love with this tea the first time we tried it, and are pleased to add it to our offerings. It's the tea we drink right before bedtime because we can and it's the tea we reach for in the afternoon just because it's so good. If you like herbal teas such as chamomile and chrysanthemum, this is a tea you'll want to have on hand.
View full details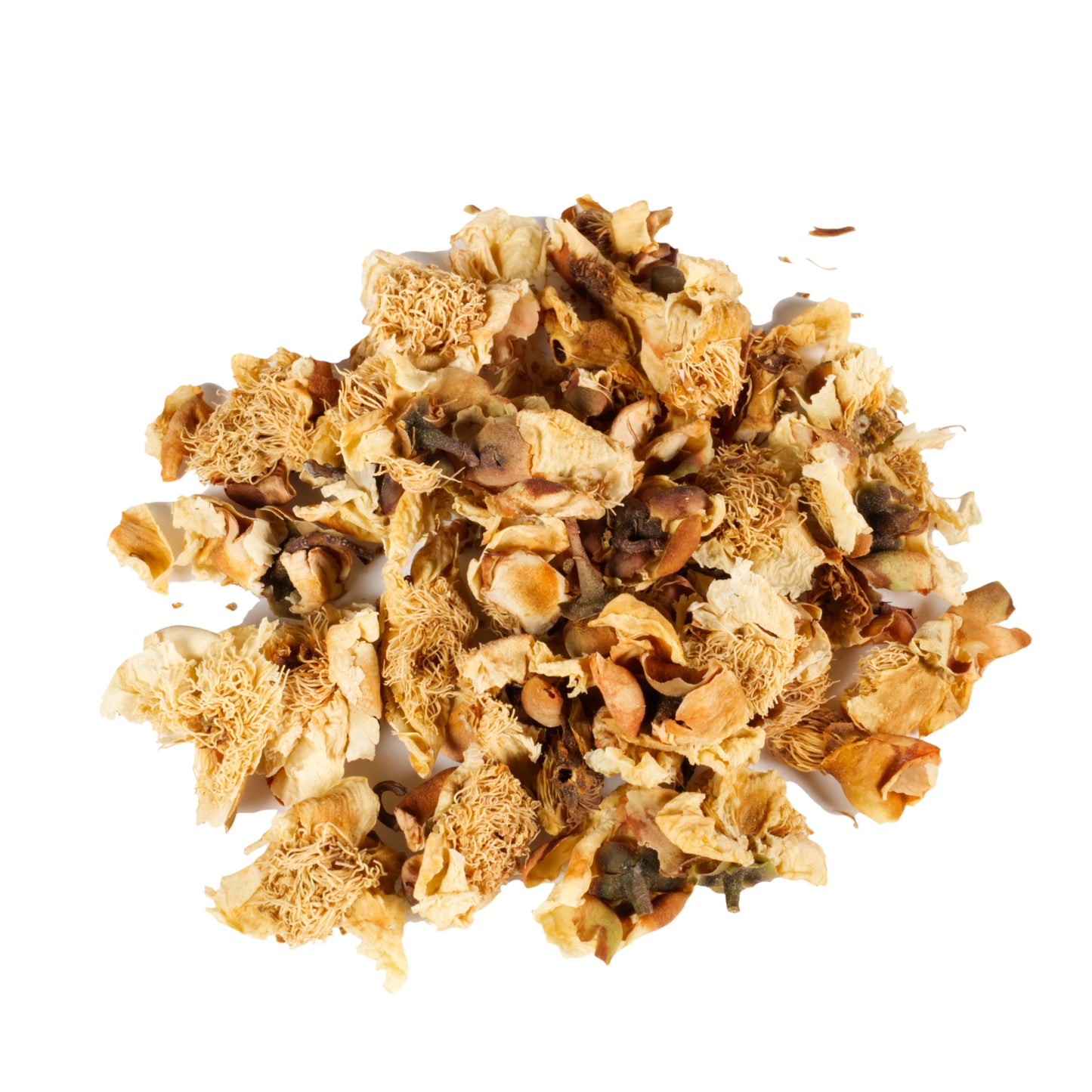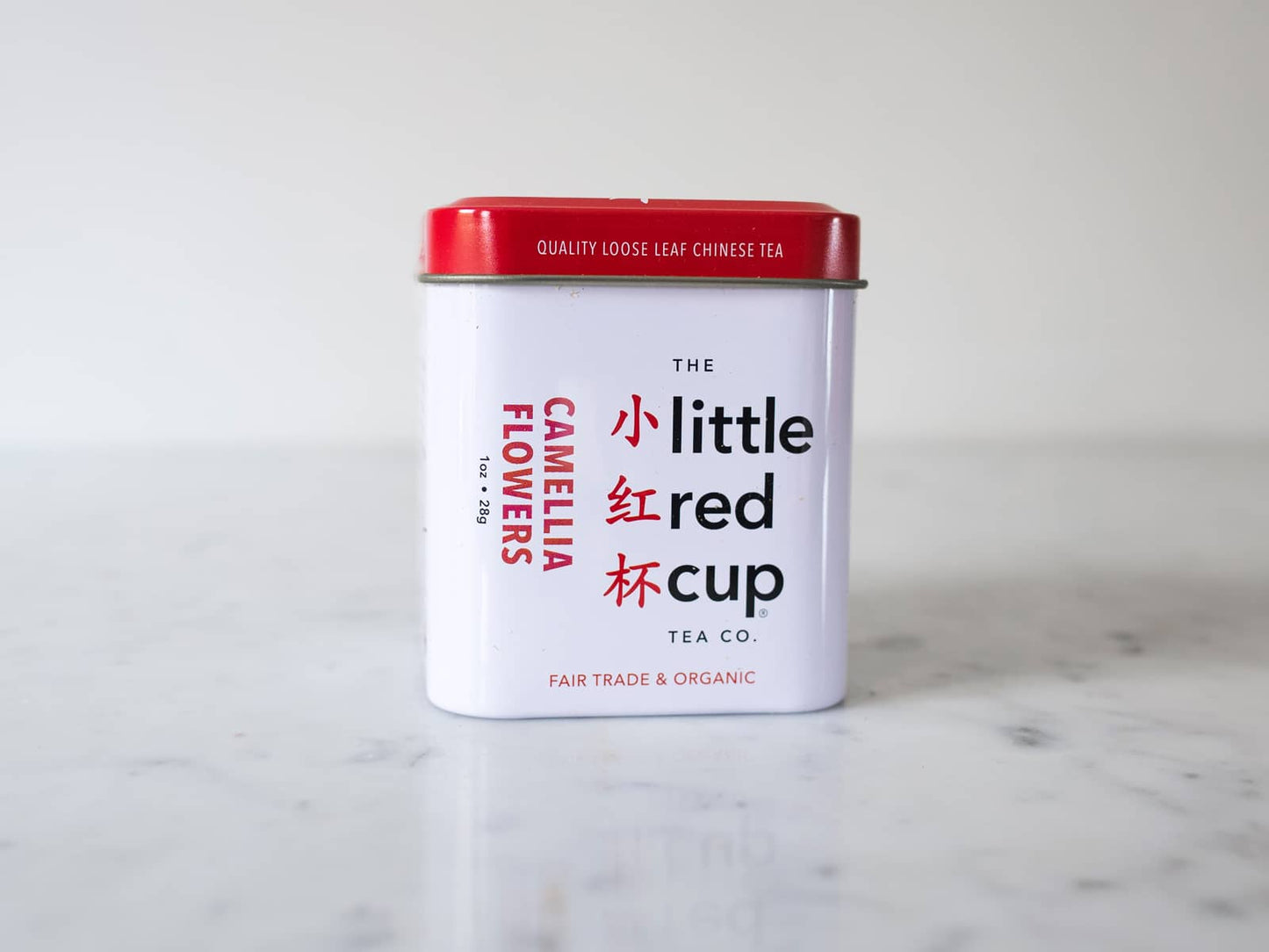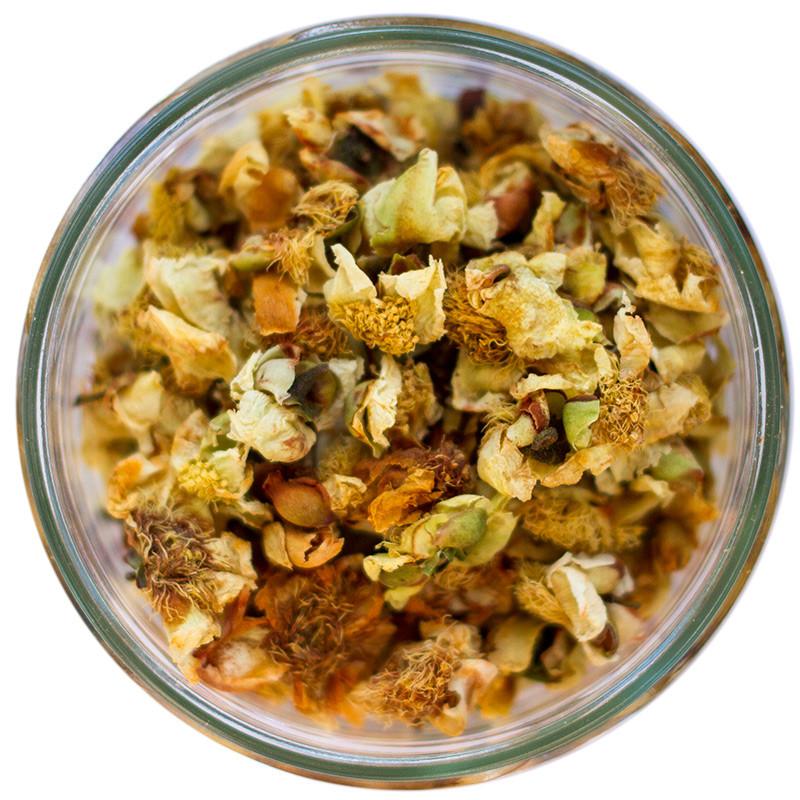 Brewing Guidelines

Very good tasting herbal tea
I am enjoying the camellia flower tea, but was disappointed upon receiving it when I learned that it was an herbal tea with very little caffeine. I typically drink tea with caffeine as my morning jump-start beverage, and only drink herbal teas for medicinal purposes.
It's pretty much my own fault that I didn't realize this because I didn't read the whole listing. It sounded interesting so I ordered it. I do have a suggestion: it would be nice if you used a different color or some sort of symbol in the listing right by the name of the product indicating that it's an herbal tea.
I came up with a great alternative use for it, though. I made a pitcher of iced tea using 3 T. of the camellia tea and 1.5 qts. of water, and steeped it for about 10 minutes to make it extra strong. After straining out the camellia flowers, I sweetened the tea ever so slightly with a few squirts of "Holly Honey" from a local producer in my area, Smiley Apiaries in Wewahitchka, Florida.
I refrigerated it overnight and before heading out early the next morning to an island where I do sea turtle nest surveys, I put a handful of ice cubes in an insulated water bottle and filled it with the chilled camellia tea. It was such a treat when I pulled it out of my backpack around 1 p.m. after 6 hours in the blazing sun! I will definitely do that again :)
Fast service, wonderful tea!
My tea came fast and boxed so sweet. The tea is absolutely light and lovely and yet full of flavor. I just love it! Plus it's good for people that can't drink black tea due to histamine problems!
Pleasantly surprised
I was informed these flowers might taste a bit stronger than I was assuming and I was informed correctly. The taste is hard to describe, a bit like chamomile or hay, if hay was sweet and floral? I really like to drink this at night with a dessert and calm music playing and I'm especially glad I bought 8 ounces, I'll be needing every last one. My fiance says she feels this would be a good tea to blend with light teas or other herbal teas but personally I like it on its own, however I have tried mixing it with a particularly weak tea that I bought elsewhere and, whereas it may have been in my head, it felt like it accentuated the flavors which before weren't too noticable.
Winter evening treat
I love these sweet tea flowers. In these dark days of winter, they are a treat after dinner - they seem so tropical and the flavor is lovely - complex but relaxing.
Lovely tea
We tried the Camellia Flowers and they are lovely! A light herbal tea that tastes delicious.
Cup of Heaven
This tea is not only pretty, but a delicious way to put your mind at ease. Instead of reaching for a glass of wine I brew a cup of this tea after a stressful day at work. This tea tastes amazing and it does a great job of making me feel relaxed. The tea has a nice smooth taste and does not taste bitter. 100% recommend.
Little Red Tea Cup tea company Camellia sinensis flowers are wonderful for tea.
Dear Reader,
I recently attended a lecture on tea where the tea expert said his favorite tea was just the flowers. This inspired me to plant 8 tea plants in my yard here in the USA. I have collected my blossoms and made tea. I agree with the tea expert, they make a wonderful brew. I bought flowers from Little Red Tea Cup tea company. In comparison the Chinese blossoms looked just like mine and were of the finest quality. I totally recommend Little Red Tea Cup tea company Camellia flowers. I will also suggest trying around 9 blossoms per cup. They are very powerful flowers.
Best wishes to all
and especially thank you to the Little Red Tea Cup tea company.
great source for teas!
Love the availability and variety! Great service and quality teas!
Camellia Flowers tea
I have not been able to find this tea elsewhere. I like to drink it with chrysanthemum and goji berries. It has a subtle delicious flavor and comes in beautiful little tins, making them good for gift giving too.
Love these flowers!
Very happy with my first LRCT purchase! These Camellia flowers are beautiful and make for a light and delightful tea. Customer Service was exceptional, will definitely shop here again!