Regular price
Sale price
$24.50
Unit price
per
Sale
Sold out
Our sweet Yixing Gaiwan, and two matching cups.
The perfect size (150ml) for one or two people, this glazed Yixing Gaiwan is great as a simple, no frills brewing vessel. Outside unglazed yixing style clay.  Inside glazed white.

Two matching cups are each approximately 20ml.
---
The gaiwan was originally intended to be used for drinking tea, where you simply bring the cup to your lips and use the lid to prevent the leaves from entering your mouth. However, gaiwans are often used as a brewing vessel, with the decanted tea being served in a separate cup. The lid is held against the cup so that the leaves are filtered out. 
View full details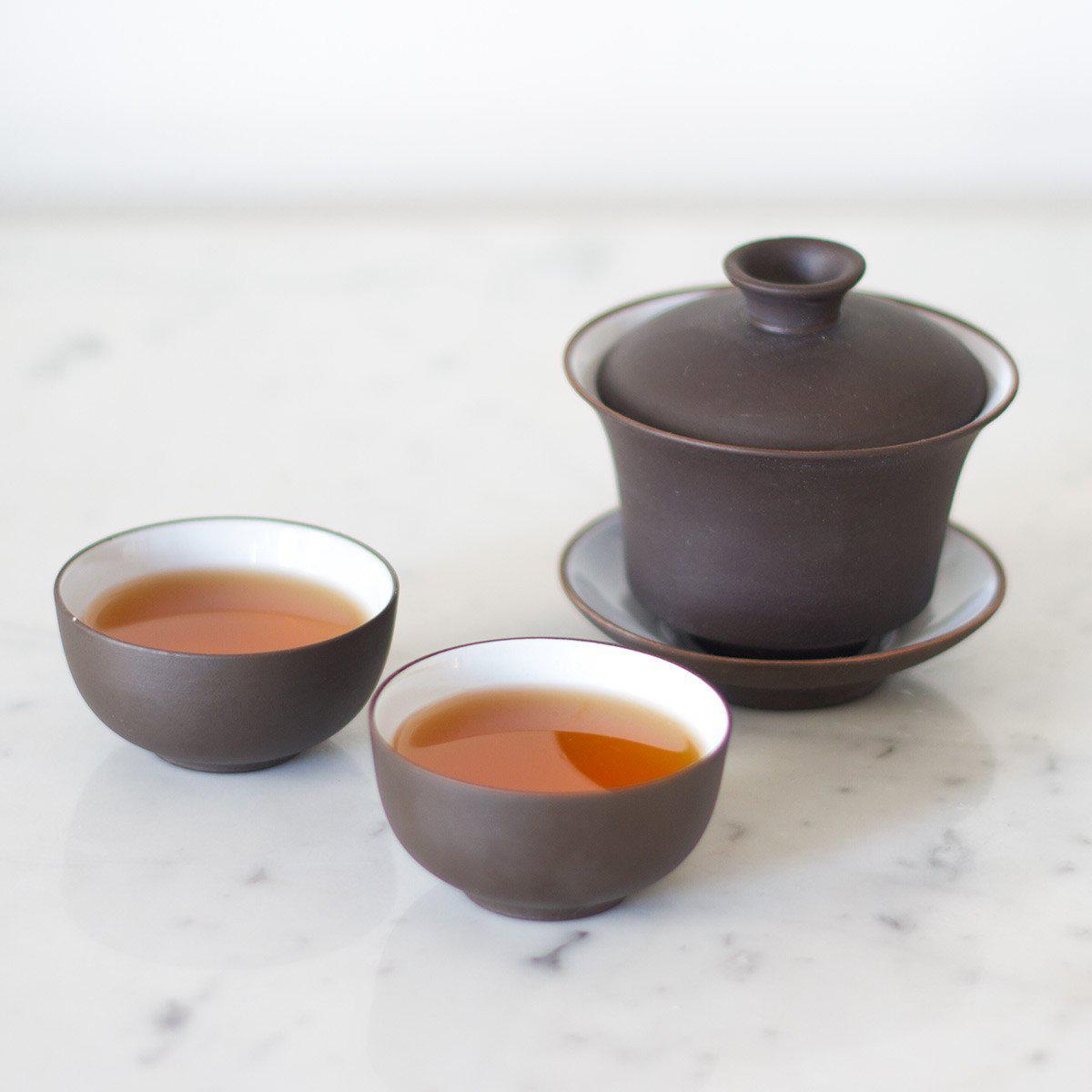 Enjoy Learning
This is my first Gaiwan so I can't say if it is better or worse than any other, but I have enjoyed using it to make tea, and I am sure I will like it more as I become more comfortable with it.
A truly magnificent gaiwan
I waited a little bit to post my review due to the fact that I wished to use my gaiwan a couple of times first, and wow am I loving it! It pours smoothly and holds enough water to fill the cups twice and some extra. All of it feels so nice in the hands, the clay is nice to touch and gives you a great grip. I've only had this set for a few weeks though I've already brewed maybe two ounces in it. I'm really satisfied with both the Camellia Blossom I purchased as well as this set, and I'm really thankful to Mike and everyone else involved in making my tea life more wonderful than I could have imagined.
Excellent service
Thanks again for the "personalized" delivery! I haven't used the set yet as it is an Xmas gift, but I did look it over and it was of sound quality. Thank you!
BEST TEA PURCHASE YET!
I love this little Gaiwan!
I was a little skeptical , but truly the whole tea drinking experience is better!
I wouldn't use it to Macro brew, any tea...its made to be used when you can take your time, and enjoy it. Must have as far as I'm concerned...
Very nice tea tool for the price
I purchased this gaiwan with ease, as it was a very reasonable price. Overall, I do enjoy the use of it, but it took a bit of getting used to. I tend to be a picky person, so that may very well color my review. I find that the side walls of the vessel, and the lid are too thick. This makes it very difficult to pour off without making a bit of a mess. I have other gaiwans that I am comparing the use too, hence my judgment on this one.
I would say I don't regret the purchase at all, but if one is new to the use of a gaiwan, don't let this one be your final decision.
Beautiful Clay and Porcelain Gaiwan
This was my first piece of teaware to try brewing gong fu style. The gaiwan itself is beautiful and now that I have the pouring technique down, I'm really enjoying using it. The look of clay with the versatility of porcelain is a great combination. Some of the teas here really do taste better when brewed gong fu style in this gaiwan (especially noticeable with the imperial yellow!). If you are planning to use this with your little red cup, it fills it about halfway full, which is good for a long session with many infusions and keeps the cup from burning your hands.
Excellent
I absolutely love the Gaiwan set. It's my first time using a gaiwan and totally changed the way I enjoy tea. I use to drink tea by making it with a tea bag but with the gaiwan I can make it the traditional way using the tea leaves. My wife is sticking to her tea bag regiment but I'll soon make her a believer!!!
Glazed Clay Gaiwan Gift Set
I just wanted to take a moment to mention how much I'm enjoying my new gaiwan. I use it everyday at work when I'm making oolongs, black teas & pu-erh. I decided on a glazed set so that I don't need to worry about dedicating a porous clay gaiwan or yixing to a particular tea variety. I'm sure I'll move in that direction but for now, this gaiwan is perfect!
Quite pleased
I received this cup/tea brewing vessel recently. I purchased this for travel purposes; I have not used it yet. Shipping was very quick, and the note that came with my items was a nice personal touch.
Great gift
It was a gift for my parents, and they loved it!