Regular price
Sale price
$14.75
Unit price
per
Sale
Sold out
$0.46/serving
Our organic Yunnan Black tea (滇紅茶) hails from Lincang, a stone's throw from Burma and home to some of the oldest cultivated tea in the world. Hand picked and tightly rolled, the golden tipped leaves produce a deep amber brew — with light notes of grapes and honey. An instant classic. 
View full details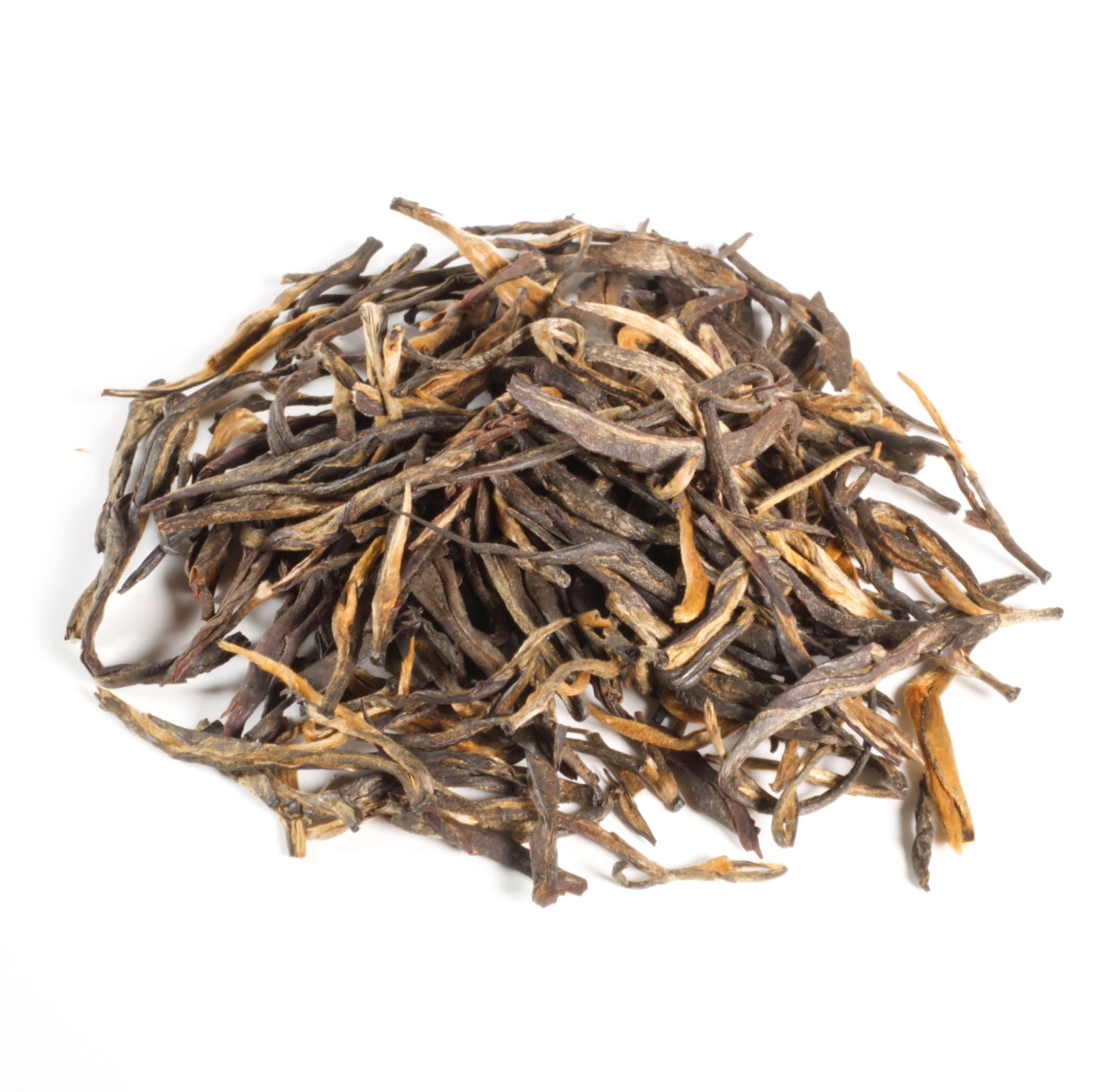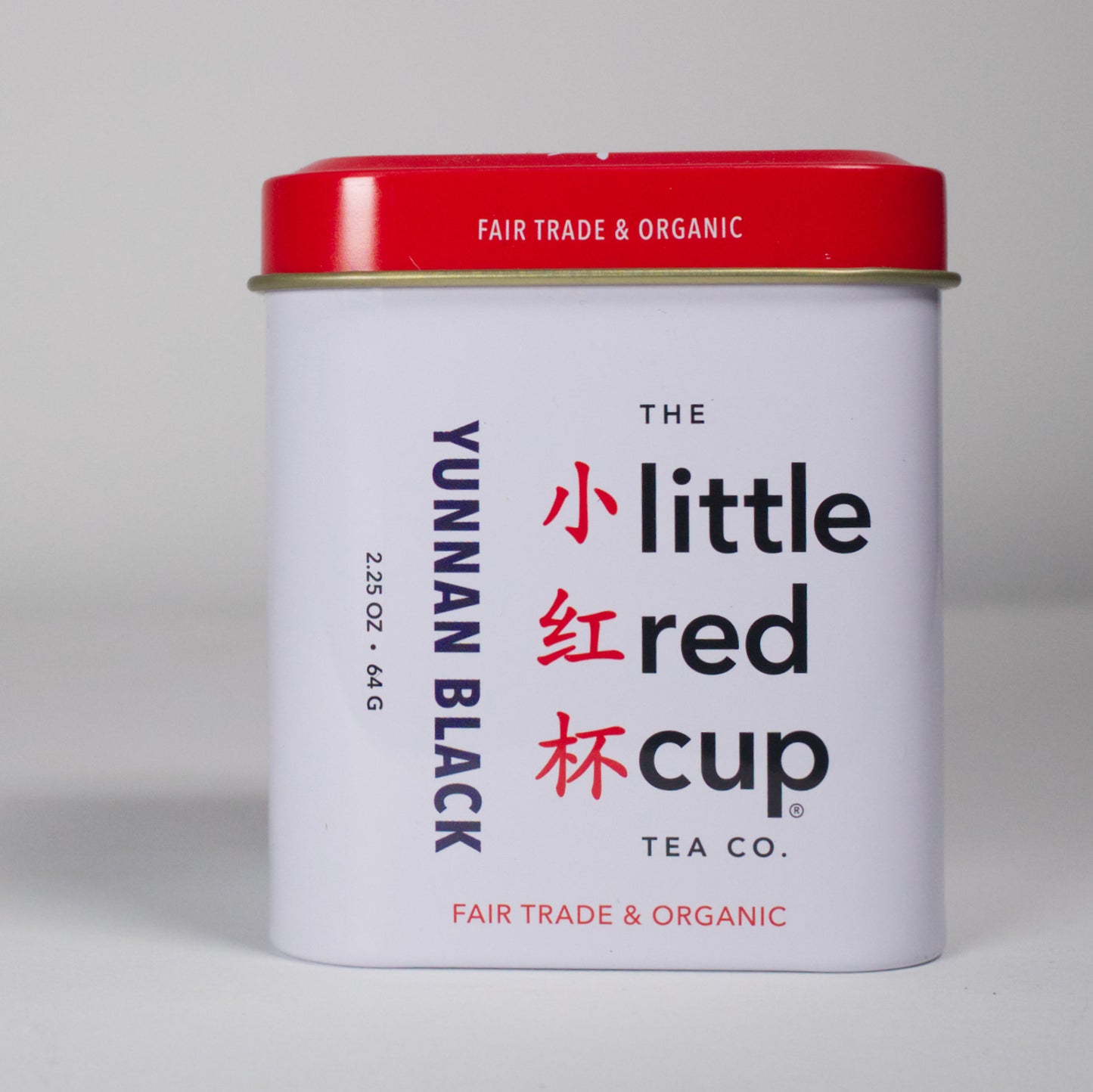 Brewing Guidelines

Simply the Best.
I admit it - I am a tea "snob" in the way some people are coffee "snobs." I am particular about the tea and how it is brewed. And I know that anything Little Red Cup offers will be high quality. Yunnan Black is simply the best. No more tea bags, no more bland brews. It is rich, aromatic, and wonderful. Tea as it should be.
Pleasantly surprised ...
I have recently switched to consuming tea on a daily basis after finally giving up coffee for good.
I have been pursuing the perfect tea and organic and free trade were a must.
Finding your small company and receiving your thoughtful note in addition to this delicious tea has definitely enhanced my life in a wonderful way.
I look forward to hopping out of bed in the morning and thoroughly enjoying a cup or two to begin my busy day and then relaxing with another cup for "happy hour" late afternoon to wind down the day.
I never realized how tea can offer such pleasant energy when needed yet be so soothing to the nervous system and mind. Not to mention how delicious served black or with a splash of cream and bit of sugar as a real treat!
Thank you for sharing your love of tea and your superior customer service. I will definitely be back for more!
My Chai Recipe:
My recipe for one cup of chai:
Bring 3/4 cup of water to a boil in a pot on your highest heat.
Add 1.5 teaspoon Yunnan Black tea from the Little Red Cup Tea Company.
Add one quarter teaspoon ground cardamon.
Boil until you see the dark tea color.
Add 1/4 cup of half and half to the boiling tea ( heat is still on your highest heat ).
Stir with wooden spoon to prevent skalding.
Lift the pot off of the heat source when the chai begins to boil over with small bubbles.
Put the pot back on the heat source and stir until the chai froths up again.
Remove the pot from the heat source.
Put the pot back on the heat source and stir until the chai froths up again, one last time.
The chai almost boils over three times.
Pour into a cup with a cotton cloth as a strainer.
Add maple syrup to taste.
Enjoy!
Imperial Yellow loose tea from The Little Red Cup
One of the very best tasting teas that I have ever had.
AH
Fanstastic black tea
This tea has a wonderful flavor. It is smooth and rich and tastes very high quality. This is my favorite black tea.
My New Daily Cup
From a Little Red Cup sampler set of black teas this one quickly became my daily go to. It is very light and so lends itself to drinking throughout the day. I often brew 3-4 mugs from the same leaves and it is never in the least bit bitter. The aroma of the dry tea is lightly sweet and fruity. When brewed a deeper yet subtle woody or earthy note emerges and I've noticed the spent leaves are reminiscent of seaweed or the ocean. The flavor has hints of all the aromas noted but so subtly light and balanced that no one stands out or overwhelms the others. A classic!
Beautiful tea, EVERY time
The consistent favorites like the Yunnan Black are my everyday go-tos, but don't sleep on the limited supply special release teas like the Rangsai Mountain Green!
Favorite Tea
The Yunnan Black tea is my favorite of all of Little Red Cup's teas. It is my everyday drinking tea and I also use it to make kombucha. While I've enjoyed all of the teas I've purchased from Little Red Cup, this tea is the one I keep coming back to. I refuse to buy any other tea at this point because it's just that good!
For mellow times
Gentle black tea. Hard to find such a thing. Mellow, can have multiple times a day. The majority of the folks in my family found this to be their Little Red Cups' favorite tea from all the 12 of their teas they tried.
Real, full flavor tea
Every tea I have ordered from The Little Red Cup has been of the highest quality. Yunnan Black, my favorite, is a fragrant and full-flavored tea. Never harsh. I will never go back to tea bags!