Regular price
Sale price
$14.75
Unit price
per
Sale
Sold out
$0.25/serving
Good black tea can be sublime — rich, robust, fragrant. Our organic Wuyuan Black (Wuyuan Hong Cha 婺源 红茶) is all of those and more. It makes a lovely rosewood colored brew, the scent signaling Tea Time. It is grown in Wuyuan County in the northeast corner of Jiangxi Province, not far from Anhui province, the origin of Keemun teas. Wuyuan Black is technically an organic Congou tea.
Wuyuan Black can be made as light or strong as you prefer without fear of bitterness. It's a lovely go-to tea, suitable for that first cuppa in the morning, a refreshing afternoon pick-me-up, iced on a hot summer's day or even for a nightcap for those who like a cup before bed. We generally have several pots of tea available all the time, and this is always among them. It is simply everything a great black tea should be.  
View full details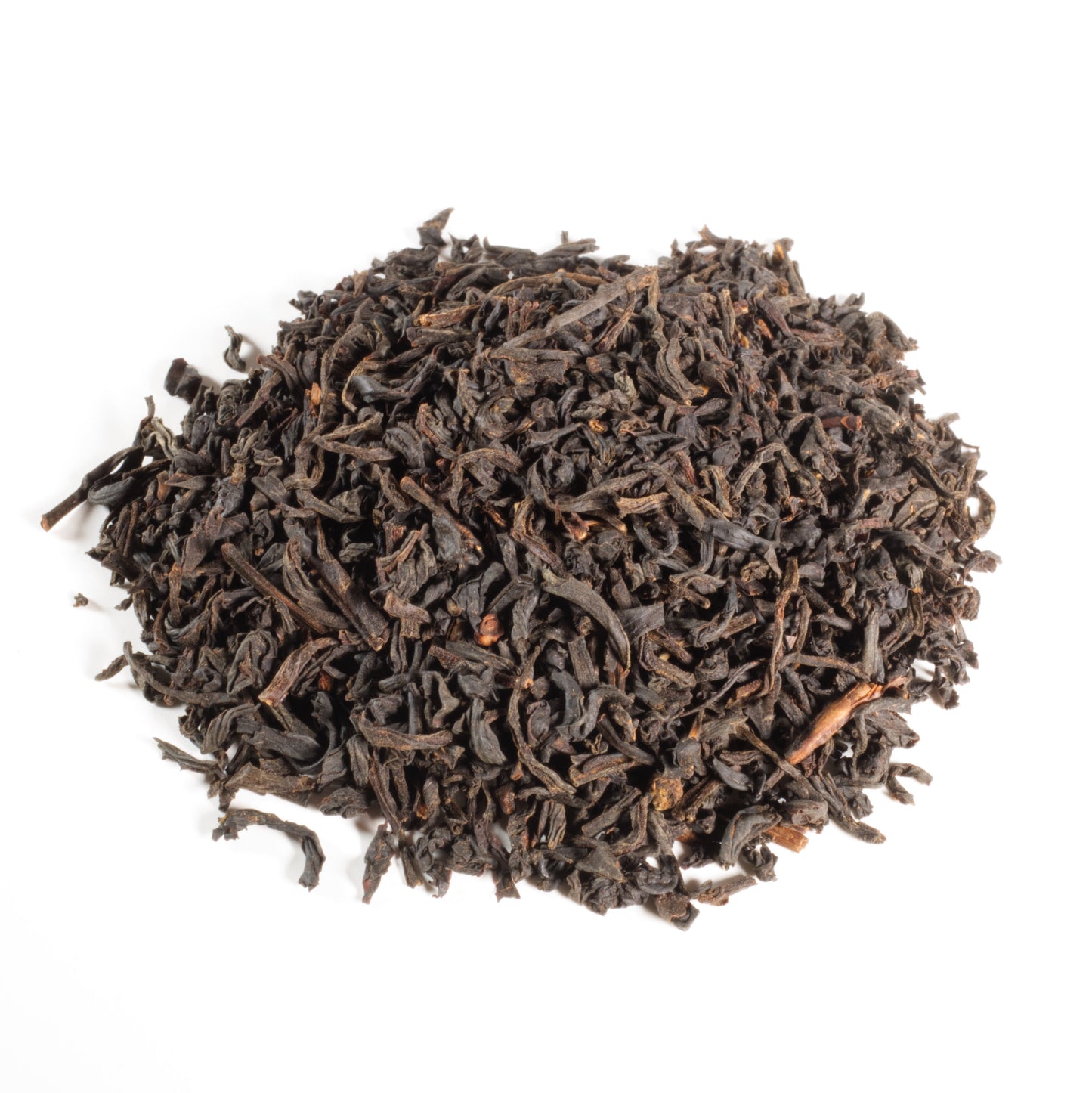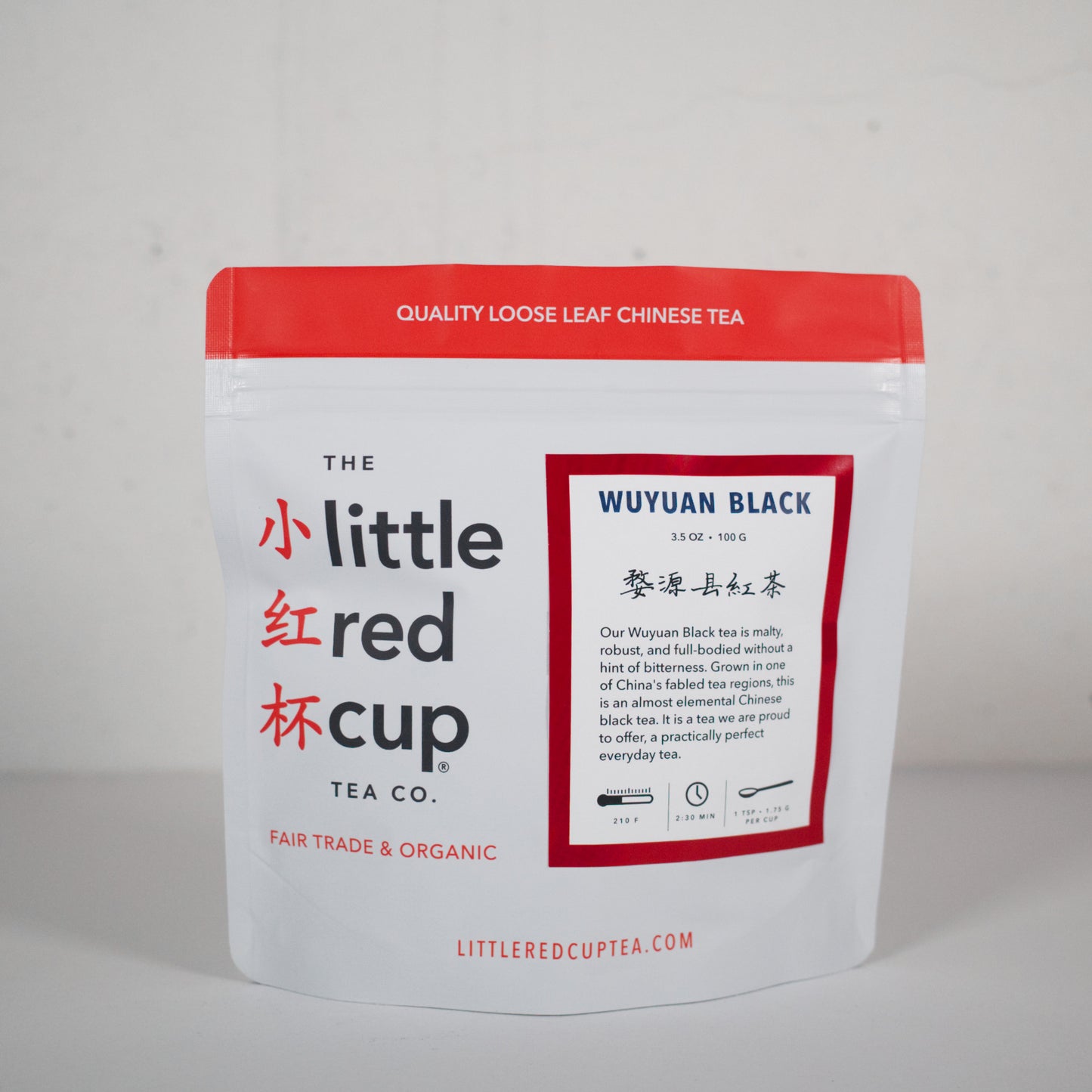 Brewing Guidelines

Fabulous black tea
Little red cups tea is some of the best I've had. The Wuyuan black has big full leaves- and a rich, strong flavor. It's my new morning tea! And I love supporting a small business that sends you a little hand written note- it's the little things!
Black Tea Wonder
Little Red Cup Tea's Wuyuan Black is, hands down, one of the best, if not the very best black tea I have ever had. Having had the chance to begin my day with a nice cup (actually, more like a whole pot) of Wuyuan for the past couple of weeks now, I cannot honestly imagine being able to live without it :-) Thank you so much for bringing such wonderful tea leaves into my life!
Ed loves Wuyuan Black tea.
I remember when I served Wuyuan Black Tea to my good friend Ed of Extra Special Teas at 12:00 and it was lunch time. It was served it iced and it was really good for you.
A little smoky, a lot delicious
This tea is a great first cup in the morning and lovely iced too. Appreciate you Little Red Cup!
Classic black tea
It's like an English Breakfast tea but with nothing sharp in taste or aroma. Rounded and intense. Good to wake you up.
Delicious and satisfying black teas
I ordered the Wuyuan Black to replenish my supply of this very satisfying black tea. I also ordered the Yunnan Black for the first time. This tea was delicious, with a floral fragrance while steeping. The teas from The Little Red Cup are really so much better than what I am able to buy in the store; after steeping, you can see that the leaves are whole and not broken into little pieces. Thank you for making such teas available to the general public!
Best Black Tea EVAH!
I've tried a variety of Black teas throughout my 50+ yrs; the Wuyuan Black is my favourite of all. Deep, rich, it hits the spot all year long, cold or hot weather! It's the one I always come back, nothing hits the taste buds better than Wuyuan.
Perfect morning cup of tea
I was in search of a good morning tea and had tried a wide variety of teas that primarily had the word "breakfast" in its name. But none could compare to the Wuyuan Black. I don't add milk to tea because I want to taste the full flavor and character of that tea. Wuyuan Black is a strong, full-flavor, no bitterness tea and has become my go-to morning cup.
Question: Who needs Starbucks?
Answer: No one who has Little Red Cup to provide tea for them! I start my mornings with Wuyuan Black, which is the best smooth flavor I've found anywhere. Most black teas I want to add sugar to -- I never do that with Little Red Cup. Strong flavor without harsh bite. It's the best!
Look Forward to it each AM!
Seriously, it has been so fun to begin making this black tea each morning. Although I really enjoy coffee, and looseleaf green tea-this is the one, soft, smooth, full taste which I turn to before breakfast when I'm headed for a walk, before a busy work day.
Awesome how this company gets it right and puts in my hands something that tastes so good, and was vetted, selected and is health-giving.
Thanks Little Red Cup!