Regular price
Sale price
$16.75
Unit price
per
Sale
Sold out
$0.41/serving
Jade Oolong (Wu Long, 乌龙) is a marvelous mountain-grown tea from Hubei Province. It has an appealing aroma, a beautiful green color and a forceful presence. This organic Jade oolong has a taste profile characteristic of greener oolongs, complex and just a little woody.
Our Organic Jade Oolong is pure whole leaf organic Chinese tea, Fair Trade certified, and utterly delicious. This is a tea to be enjoyed on a regular basis, but also a tea to bring out for special occasions. It is at once familiar and yet a cut above ordinary oolongs, a tea we are certain you will love.
Jade Oolong is available by 4.25 oz tin or by the pound. Wondering if you'll like it? Try a taste! Tasting samples are available for all our teas and good for two cups.
The leaves, used in a cup or small teapot, may be reused several times. Indeed, some people pour off the first round of water after a short time, "washing" the leaves. 
View full details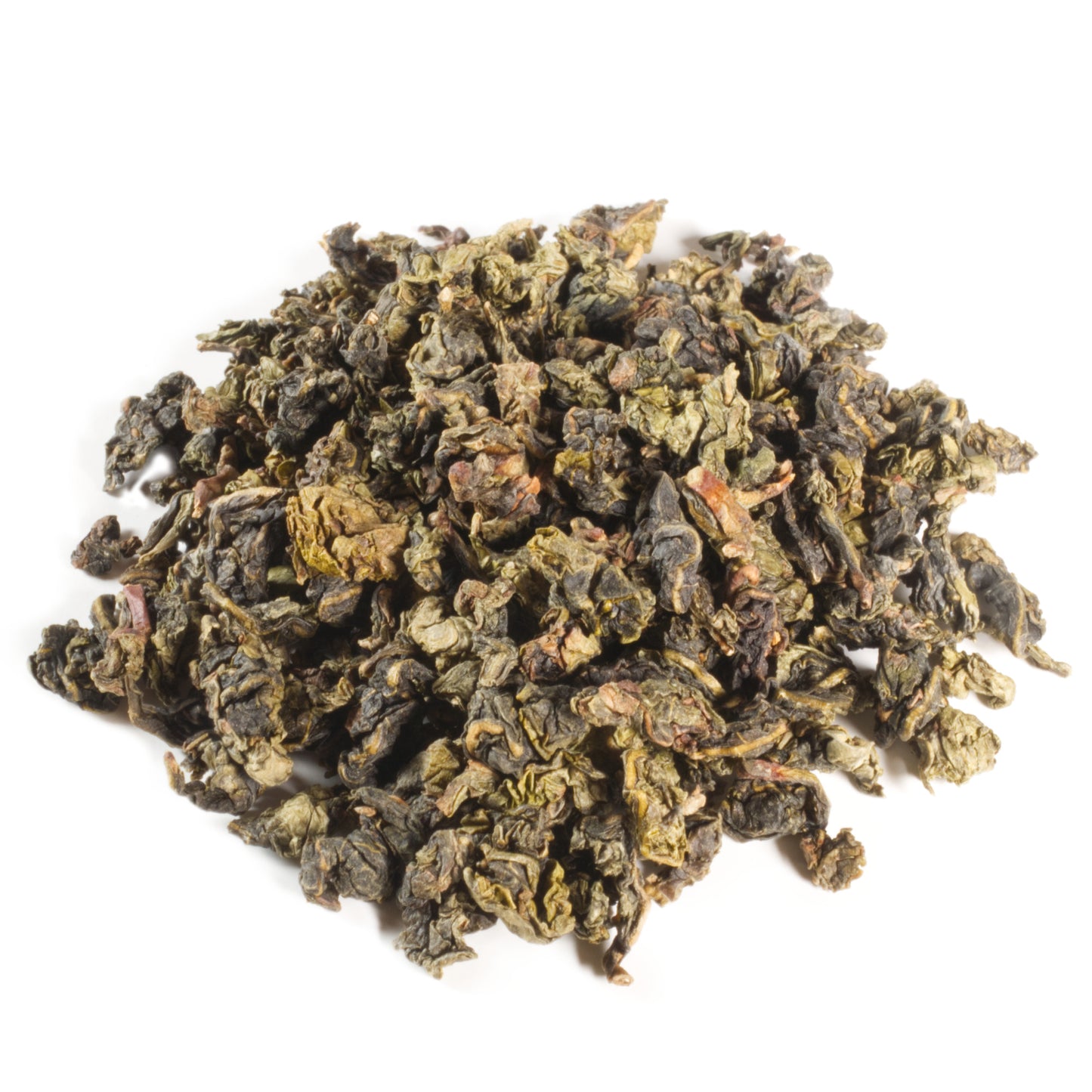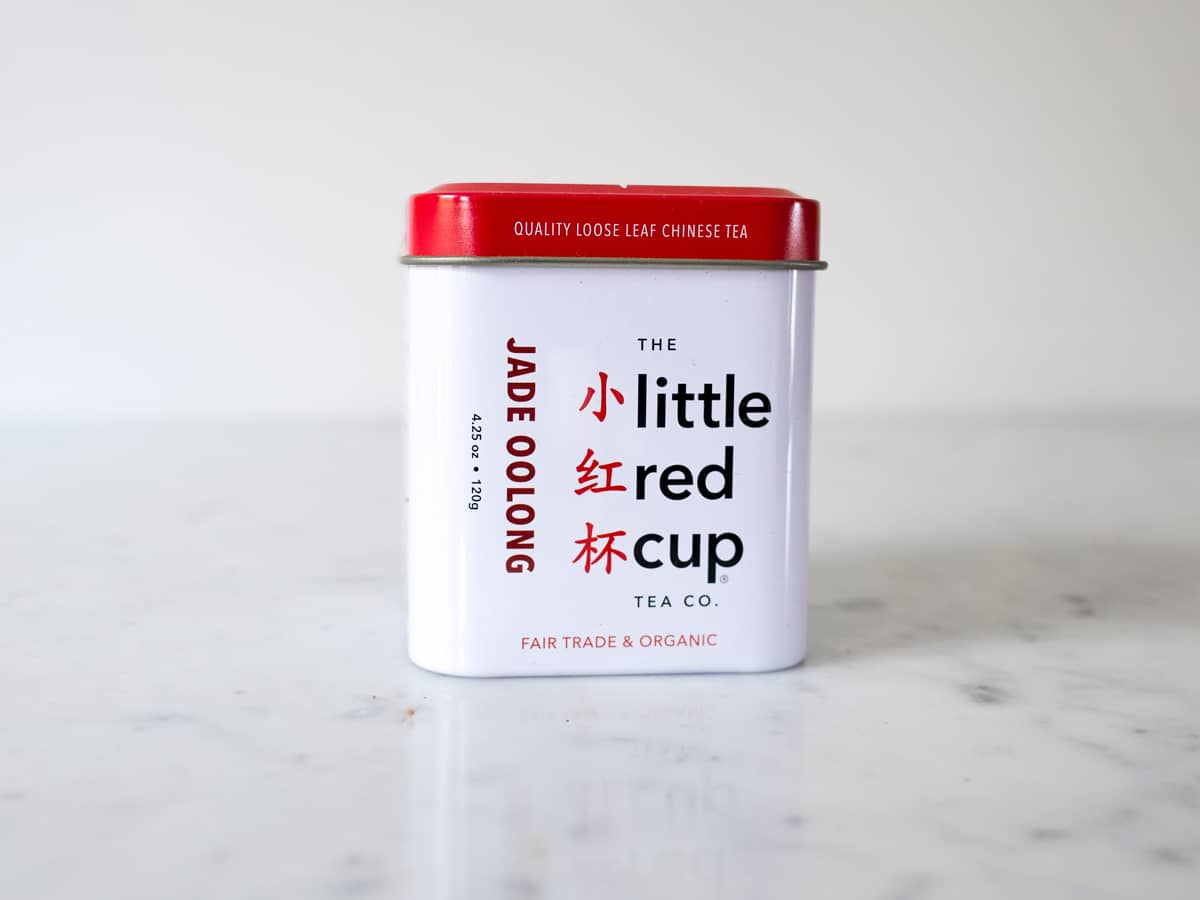 Brewing Guidelines

Lovely
Took a bit of time to find my preferred ratio of tea to water but once I found it I absolutely loved it
Truly delicious
I'm normally a black tea drinker and didn't think I cared much for oolongs, but I was so wrong. This tea has a wonderful flavor and is an absolute treat.
A tea adventure
I have been moving away from (artificially) flavored teas, and toward traditional teas. I never realized how many different tastes could be in one tea! I just finished a delicious third steeping of Jade Oolong, with a a bright beginning, followed by a mellow, complex flavor, and a mildly astringent (but not bitter) finish. Yet, each steeping is also a new experience. It is important to me to source Fair Trade and organic tea. Add to that great customer service, and I know I'll be ordering another tin of Jade Oolong when this one is finished.
wonderful oolong
The sweetness and delicious flavor of this oolong really surprised me. It may be my favorite of Little Red Cup teas so far.
This is my go to, quintessential oolong and I cannot wait to enjoy it again and again . Thank you! Also the rangsai green special is a personal favorite , it's delicious and so fragrant
A unique oolong
A bit more floral than the oolong that I'm use to, but I really like it. I find myself brewing this over the other two oolongs I have. I have had a hard time finding the right amount of leaves since we brew two cups in the morning in a cast iron pot. Sometimes it is weak, sometimes too strong and bitter. Hopefully I can get the formula right soon! My only wish is that the packaging for the lb. package were recyclable and more eco friendly.
Second purchase
I got the sampler for a friend with my first purchase and she loved it so I got a gaiwan and some jade oolong and Camilla teas and I am very pleased!
My new favorite tea!
Little Red Cup is my new favorite tea company, and jade oolong is my favorite, altho I've yet to try them all and I also love the white peony and the gunpowder. I love the tin the tea is packaged in, and I love this company (no, I'm not related--I first discovered the tea at Morning Glory in Brunswick.) And a real bonus to get organic teas imported from China. Long live Little Red Cup teas!
Amazing Flavor
This tea is one of the most delicious teas I've ever tasted, the tea opens up into large beautiful whole leaves with a surprising amount of mass as they steep. As soon as I poured the water onto the tea leaves I was hit with a floral smell, at first I thought Gardenia but then it became the super familiar scent of Lilac. It wasn't until I went back to look at the website that I saw lilac listed as a tasting note. Spot on! Smells and tastes like rich sweet grass and lilac on a very fresh spring breeze. Love it!
I love it!
I love so many of the teas I've purchased but this is my favorite