Regular price
Sale price
$15.50
Unit price
per
Sale
Sold out
$0.16/serving
Gunpowder Green Tea (Zhu Cha, 珠茶) has been made in China for well over a thousand years and exported for almost that long. Traditionally the tea leaves were rolled into small balls or pellets which helps the unfermented tea leaves withstand storage and transportation without undue breakage which could lead to unwanted oxidation or flavor loss. Our Organic Gunpowder Green Tea is not, in fact, rolled into pellets, but the traditional green gunpowder flavor is retained.
Our Organic Gunpowder Green Tea has a robust, slightly smoky flavor, and when steeped produces a lovely yellow colored brew.
Gunpowder Green Tea is a great get-up-and-go tea, marvelous first thing in the morning as well as into the heart of the day.
View full details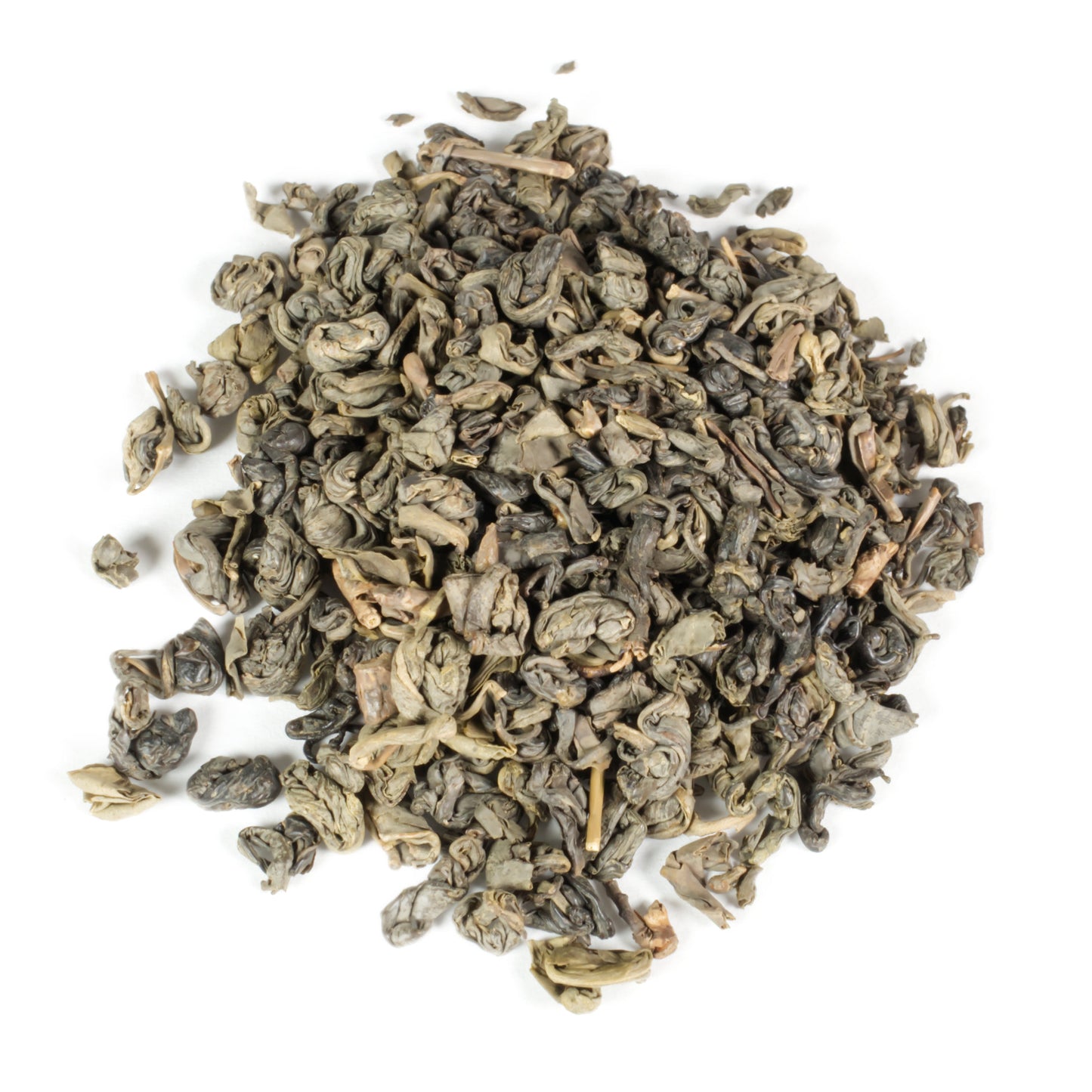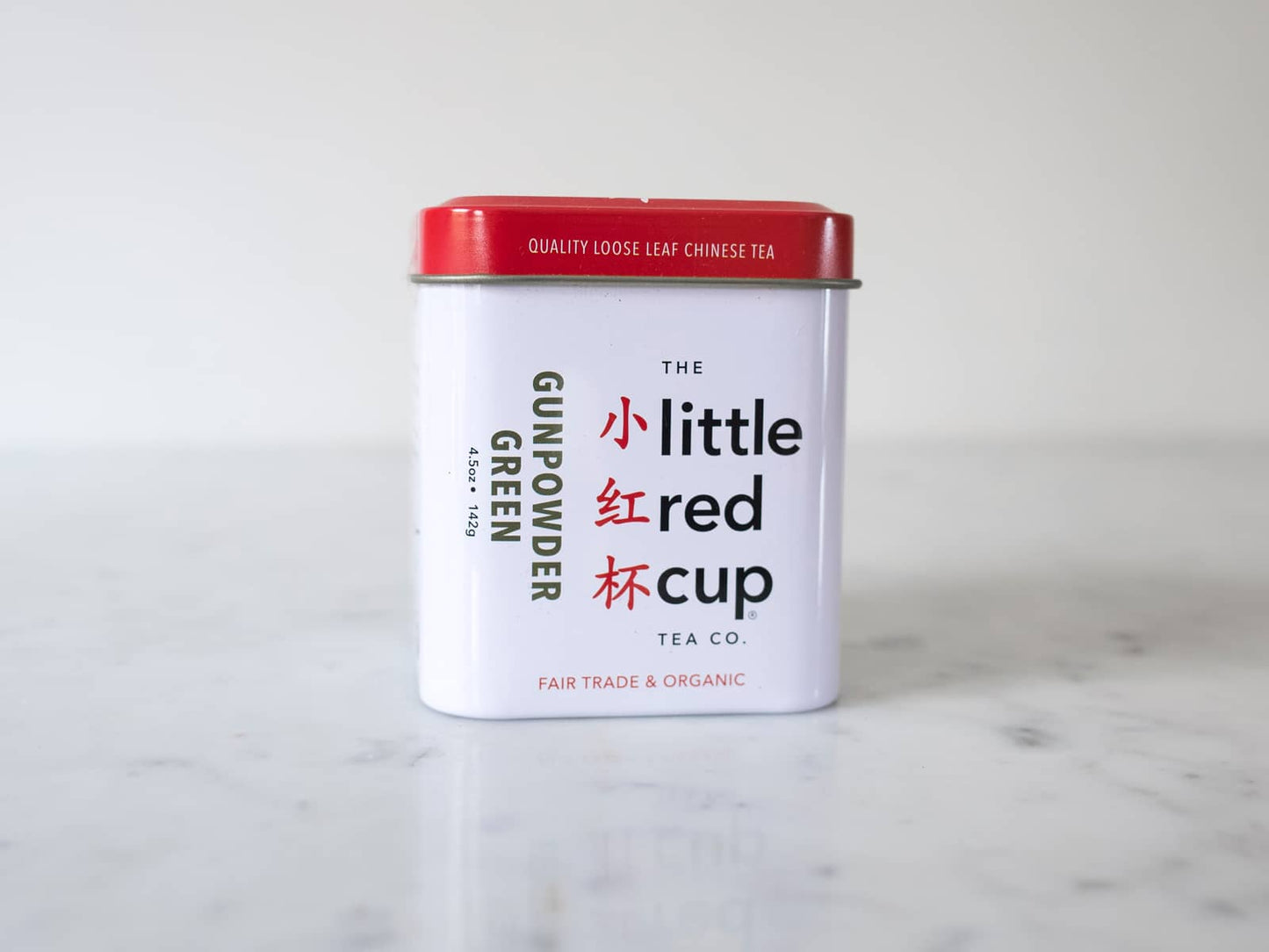 Brewing Guidelines

Tea Time
I sampled this tea at a country fair in Maine. I have taken tea classes and studied tea. I am EXTREMELY picky and judgmental when it comes to tea. Red Cup is my absolute favorite!! Highest quality and I love the name and the tins!
Da Hong Pa is the most delicious tea on the planet. It tastes like pecans, walnuts and cashews all together, so good!!
Gunpowder Green Tea
Great wake up tea in the morning! Wonderful flavor!
Best Gunpowder Green Tea Ever
Little Red Tea Cup Organic Gunpowder Green Tea is just luscious, smooth, never bitter (unless I mess up) excellent consistent flavor.
Rich but fresh, silky and slightly sweet
This green tea is delicious and surprising. My husband and I both enjoy gunpowder green tea, and we agree this is the best we have tasted. It brews a satisfying and rich cup of golden tea, but its fresh taste is what makes the difference. It tastes lightly sweet and leaves a silky feel on the aftertaste.
Gunpowder Green Tea
I like the gunpowder green tea a lot, and I've been enjoying it.
Perfect Tea
I found the perfect green tea. Gunpowder green. So lucky to have Little RedCup Teas so I can sit back and enjoy all my favorite teas
Gunpowder Green
Great GOOD MORNING! tea. Not an alarm clock. But like a persistent whisper in your ear. Because like all Little Red Cup teas, it's full of flavor but leaves out the bite found in stale, guess what grocery store tea bags. Two joys of my old age: discovering Mozart's "piano" concertos (over and over again) and becoming a tea lover after discovering Little Red Cup. Fresh, no bitterness, and oh the flavor--even in much milder varieties.
High Quality, Responsible Tea
I love high quality tea, I love shopping local, and I love knowing the tea growers are getting a fair deal. This tea checks all those boxes, plus it's reasonably priced! I'm a long time green tea drinker and this tea is everything...smooth, earthy, and strong. I'm a huge fan!
Excellent Company!
I ordered 3 kinds of Green Tea, The Eyebrow, Gunpowder and Jasmine. They are all delicious! The packaging and service is wonderful as well. When these run out I will definitely be ordering more.