Regular price
Sale price
$15.50
Unit price
per
Sale
Sold out
$0.25/serving
The best Organic Green Eyebrow (Lǜ Mei, 眉绿) originates in Jiangxi Province, where our Fair Trade certified, Organic Green Eyebrow Tea is grown. Green Eyebrow is a distinctive tea with more bite than some green teas, and is named for the characteristic shape of its leaves. Green teas are made with virtually no oxidation, and so our Green Eyebrow produces a brew light in color with a fresh, sharp taste.
No lightweight,  our Organic Green Eyebrow Tea is a perfect eye-opener, as well as a solid work-day companion. Among green teas, Green Eyebrow is a strong variety, and we suggest using a smaller amount of tea and a shorter brewing time for a lighter beverage, and a bit more tea coupled with a longer brewing time for a stronger tea. 
View full details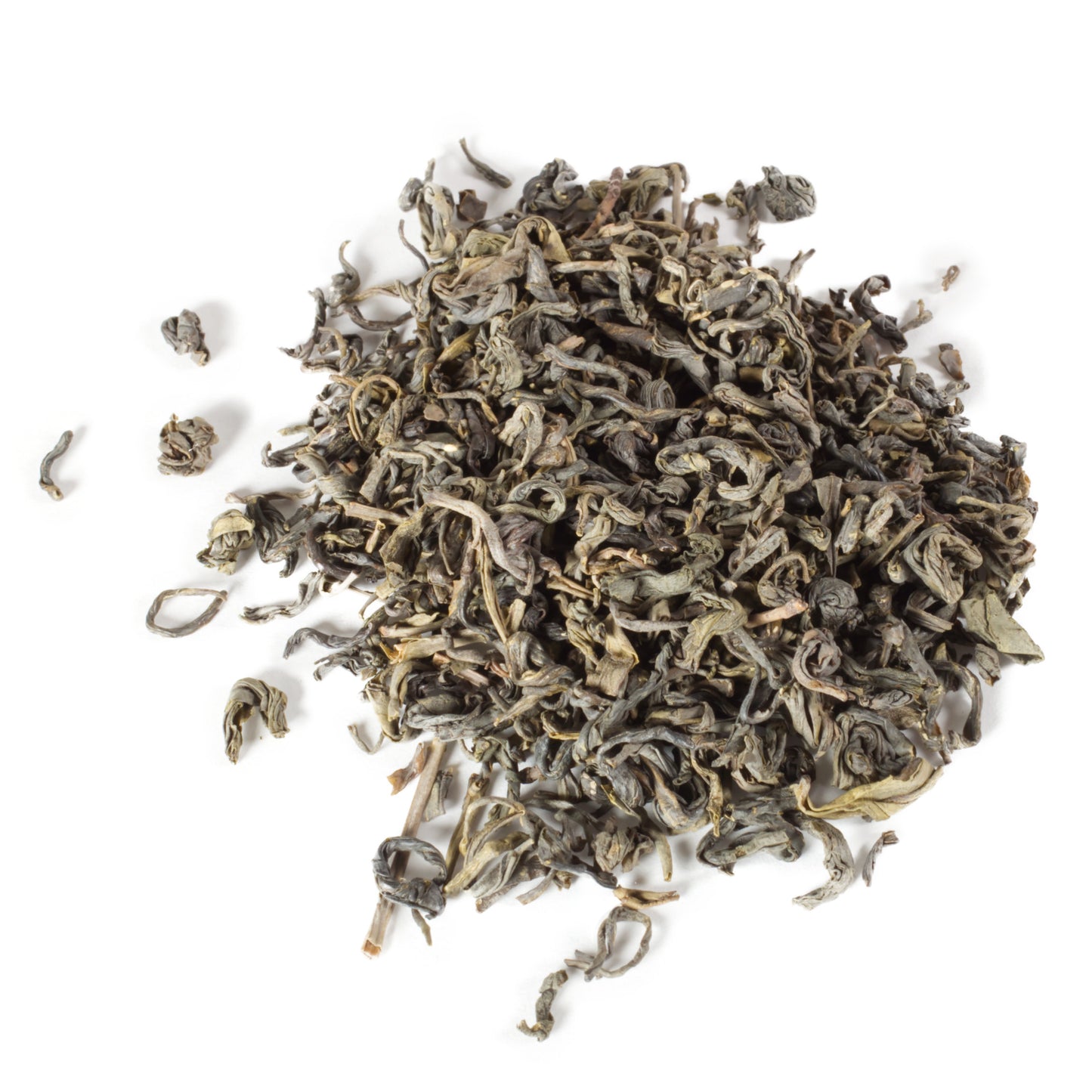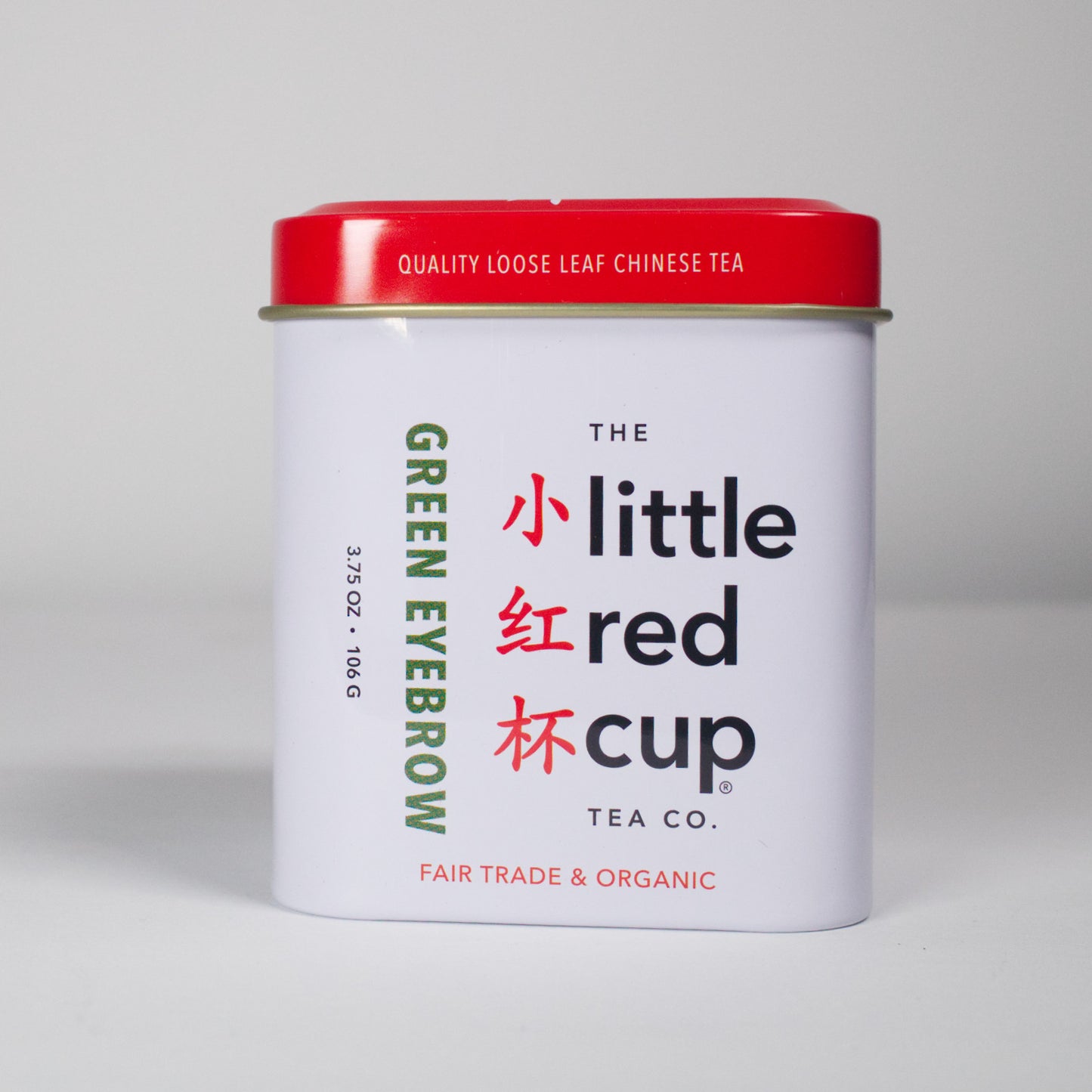 Brewing Guidelines

Best Tea During Pandemic
This wonderful tea has gotten me through the last 2 months of sheltering at home. I have i cup every morning after waking- it is strong but subtle, refreshing and awakening. It reminds me of the wonderful tea I have whenever I am in China- which may be awhile from now. Thank you!
High Fives for Green Eyebrow Leaves
Ordered the Green Eyebrow following many years of drinking Gunpowder, and admire the subtly of this lightly aromatic green tea. Highly Recommend the "Little Red Cup" I feel confident I am getting the best that is available. Thank you.
Excellent classic green tea
First time ordering this tea from Little Red Cup and enjoying it tremendously. Sturdy and stronger with more of a bite than many lighter green teas I find it an excellent all day companion. I personally prefer my teas on the stronger side so I brew mine at full brewing time as well as adding a little extra tea, but this tea is also adaptable both in brewing time and amount of tea used to suit any tea drinkers taste. Absolutely without question a wonderful classic green tea. Will certainly buy again.
It's Hard to Choose Our Favorite
We received a four-tea sampler set, and we keep changing our minds about which is our favorite. They are all so delicious. Thank you!!!
Great Tea
I was a bit uncertain about this tea based on the description of being a strong variety of green tea, but after tasting it, this is my new favorite green tea. I'm still experimenting with different brew times and quantity, but my favorite so far is 1 tsp @ 175 deg for 2 minutes. I will be ordering a full tin of this tea soon.
Great Tea!
A bit different than what I'm used to, but a really great tea. I like a stronger tea, both as hot tea, and one that I can drink iced. This is one of the few green teas I have found that can stand up to ice, and that I can drink all day. Will definitely be ordering this one again.
First time sampling different teas and understanding how to serve. Teas purchased were excellent and samples were well received
A wink from the green eye browed beauty..
Pleasant like a Monet. A jade pearl in lotus paddy. Slight dusting of green petaled pollen. A subtle acidic wit. Oriental tradition's. Grasshopper's grassy goodness. A kind green eyebrow winks.
excellent
My prefered method of drinking green tea, other than dragonwell, is gong fu stlye. Usually start with 30 seconds, and gradually increase to a minute with each subsequent steeping. Generally 4 grams of tea material to 120 ml gaiwan. Lovely mouth feel.
Green Eyebrow Tea
Excellent, very high quality tea, the leaves unroll! For variation I sometimes add an extract Vanilla, Black Walnut or Almond. Highly recommend this tea! I drink 4-6 cups of Little Red Cup tea every day. Having taken tea classes, how to judge the quality and trying many other brands, I was happy to meet them when visiting in Maine at a fair and they served me several different teas and we had a great discussion , 4 years ago. Now the only tes I drink!