Regular price
$15.75
Sale price
$13.25
Unit price
per
Sale
Sold out
$0.69/serving
Our Organic Golden Monkey Tea is grown on a relatively small terraced tea garden that ranges from 600 to 1,500 meters (call it half a mile or so) above sea level in the rugged mountains in the southwest corner of Yunnan Province in CangYuan Township–just a few short miles from the border with Burma.

Golden Monkey is a well known tea in China, but not one produced in great quantities. It's origins are relatively recent -  approximately 300 years ago in Panyang, Fujian. Features include the use of only the tea bud and first leaf, full oxidation, with the resultant golden tips that provide much of the tea's color and distinctive flavor profiles.

And about that flavor? Just...wow. Though not a powerful tea like Gunpowder Green or Lapsang Souchong, there is a lot of depth to this sweet and fruity black tea. It's complex and yet the flavor seems familiar. This is comfort tea, which is one reason the Golden Monkey teas have been enjoyed both within and without China for several centuries now. 
Golden Monkey is available by 2 oz tin or by the pound. Wondering if you'll like it? Try a taste! Tasting samples are available for all our teas and good for two cups.
View full details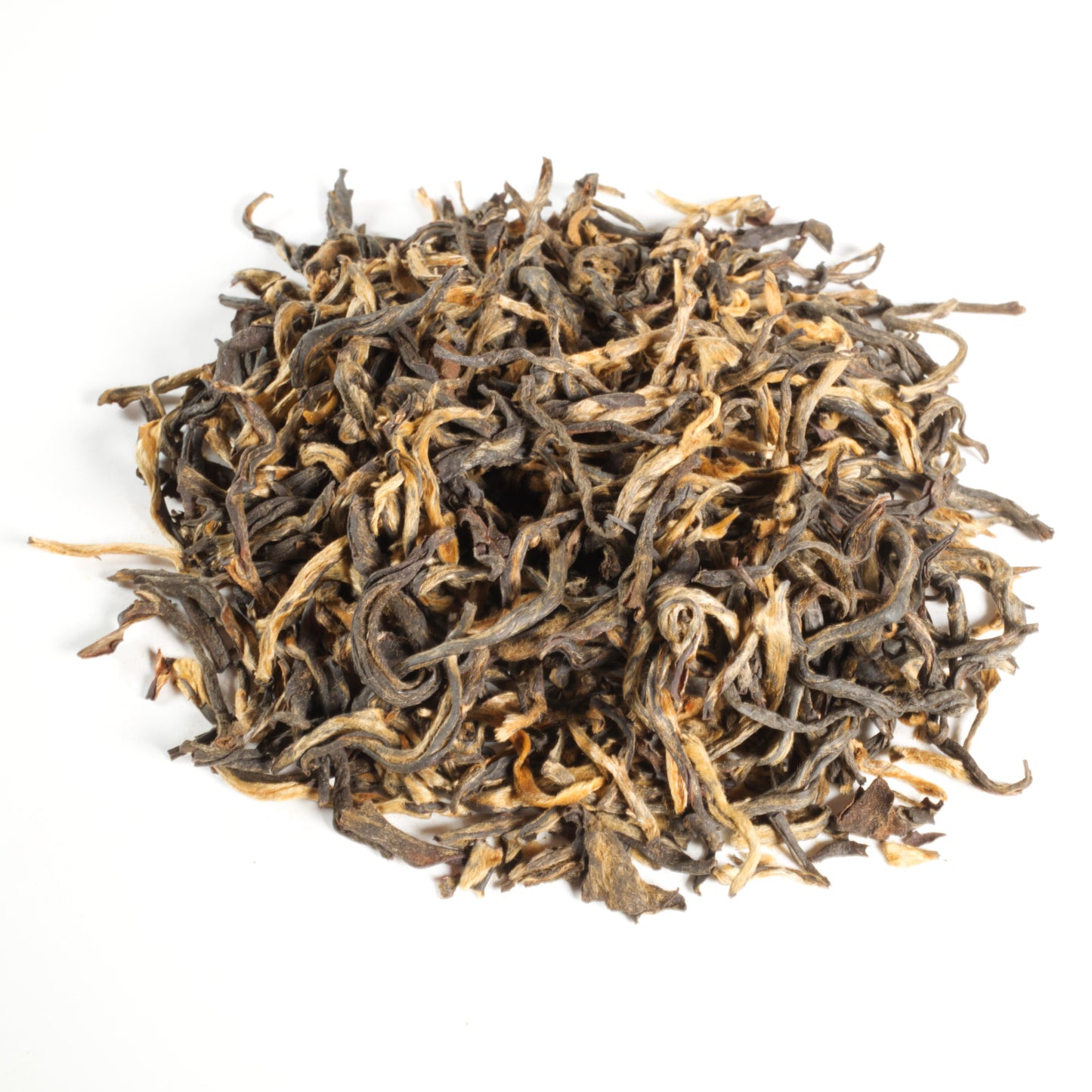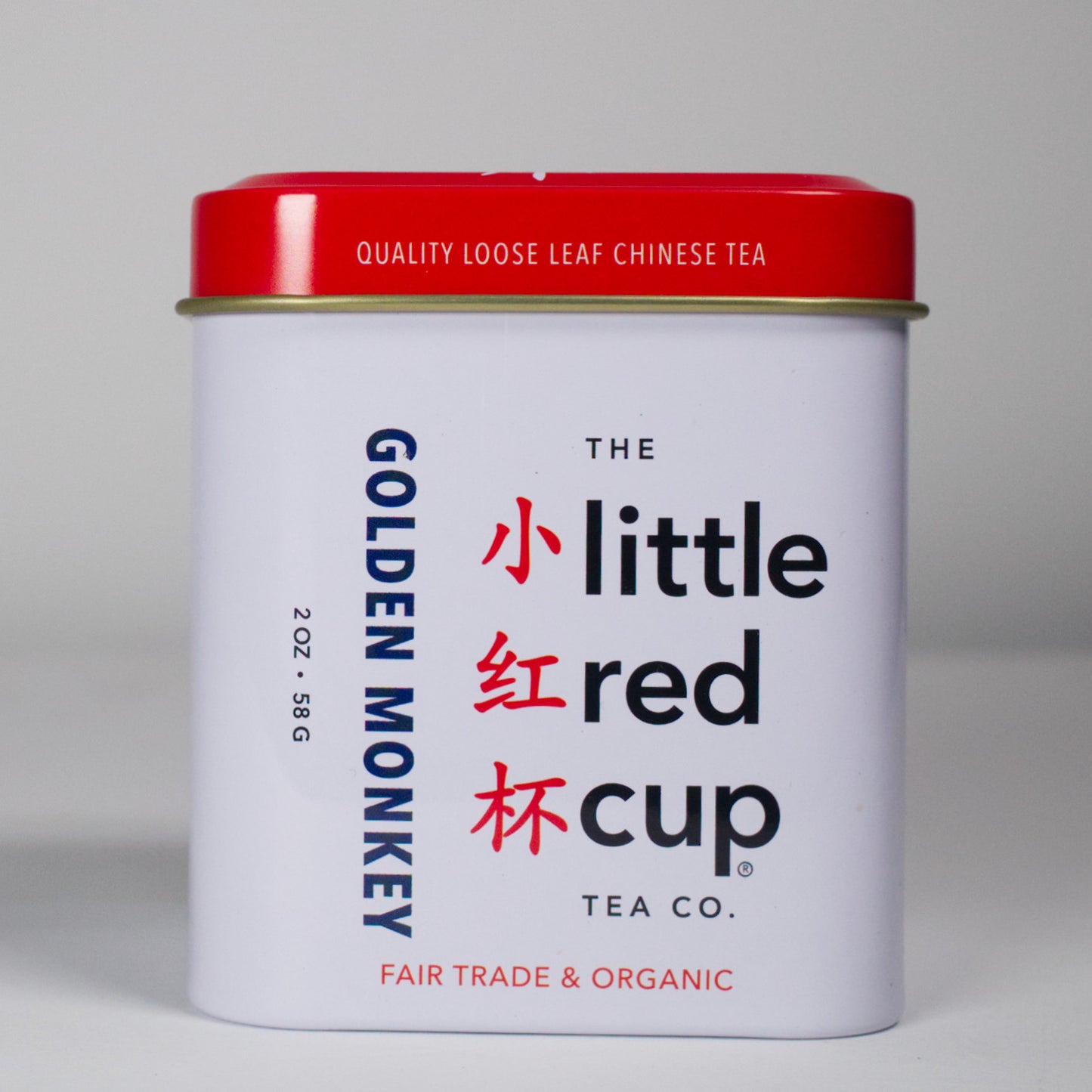 Brewing Guidelines

Calming way to wrap up the day
I'm new to drinking fine tea. After a lifetime of dust-in-the-bag Lipton, Little Red's Golden Monkey created an awareness of tea's calming effect that I didn't know was possible. It did take a bit of journey to appreciate Golden Monkey, but I feel I have arrived.
After decades of grandma's budget tea with evaporated milk and 2 teaspoons of sugar, the idea of drinking black pekoe straight was a first step. I couldnt do it at first, so tried supermarket Earl Grey and parted ways with milk and sugar. My son advised trying a Harney & Son blend using a cup strainer and I parted ways with the ittle paper bag. The blend was enjoyable but still seemed a like candy-like. The bewed tea leaves were mash-like so I tried Little Red's Yunnan Black and was surprised to see the brewed leaves unfurl.
The experience was like discovering that milk comes from cows. My cuppa went to two cups and I made the great leap of digging out a gift tea pot. To my good fortune, the pot was well designed with strainer holes in the spout so the unfurled Yunnan leaves never ended up in my cup. A cheaper tea, even the Harney & Son, would have clogged either the spout or choked me on tiny bits.
I bought a bag of the Golden Monkey and two other teas with the advise of Little Red's Mike. I also did some tea pot shopping on eBay and found each pot uniquely affects the tea.
Of all the teas I've now tried, Golden Monkey seems to have it's own calming effect at the end of a stressful day. It finds a balance between the dark teas and the very light green teas. Mike was right.
A favorite among favorites!
I love tea (as I'm sure most people who visit this website do) and I like a nice variety of greens, blacks, whites, oolongs and pu'ers. Golden Monkey is my go-to black tea for everyday use, saving Little Red Cup's fantastic Black Special Lot and Black Snail for weekends. Golden Monkey is one of the teas I love enough to order a whole pound of it. It's also one of the teas I give to friends who want to sample LRC's amazing line of teas.
Golden Monkey Makes For a Glorious, Golden Morning!
This is high quality, addictively delicious medium strength black tea, and a very pleasant 'wake-up' tea for me. This tea is very hard to find a a reasonable price in combination with high quality. I am thrilled that Little Red Cup decided to carry it, and they nailed finding the best of the best!
Organic Golden Monkey is Platinum
Hi there, if you like black teas, you will love Golden Monkey (Jin Hao) from the Fujian Province. It is a wonderful tea. A small pinch goes a long way and makes a wonderful aromatic and creamy liquor. It is my favorite tea. Smooth and calming, a great way to start the day without intense caffine jitters. Highly recommended.
Delicious!
This tea is delicious, with aromas of jasmine and subtle melon and a pronounced orange pekoe flavor. A very soft mouthfeel with balanced tannins and not the least bit bitter even after several brews. A really enjoyable treat.
Delicious!
Very satisfied with this tea.
Lots of steeps. Couldn't stop smelling the leaves.
I really like this tea. I was super excited to order a sample as soon as I heard about it. I'm no expert, but I was able to get twice as many steeps from this tea than I usually do from others. I imagine this tea would probably do well when steeped gongfu style. Also, I really enjoyed smelling the leaves in the pot. I plan to order this again the next time I replenish my tea stash. Thanks for bringing it in.
Two Thumbs Up... From the President of the Company
We looked at a lot of teas while trying to source this, and most, frankly, did not meet our standards. A few were close. But only this tea hit all the marks. Packing the Golden Monkey tins yesterday I was amazed by the fragrance, which I would call sweet and chocolatey (your experience may vary!). And this morning when I came into the kitchen and was trying to decide on which tea I wanted for that first pot, I was inspired to reach for this tea. I've been drinking it all day and my fourth large mug is just as marvelous as the first.
There is a little bit of a paradox about this tea. Technically it is a Black Tea, in the same category as our former Keemun Black, which I described as "a classic black Chinese Restaurant tea--except good." But this tea is nothing like that, nor our WuYuan Black. Taken together with our profoundly smoky Lapsang Souchong and our Yunnan Black, this tea illustrates just how broad the category of Black Tea really is.
Despite being so unlike the more standard black teas, this tea seems familiar-- it's not the least bit strange, though it is delightful. We are *really* excited to be able to offer you the opportunity to add this tea to your cupboard or tea tray, and completely confident that if you like black teas in general that you will really enjoy this variety.
Golden Monkey
Love, love, love this tea. The layers of flavor are divine