Regular price
Sale price
$20.00
Unit price
per
Sale
Sold out
These handmade ceramic tea cups are perfect. They're small enough that your tea won't get cold, big enough to satisfy a thirst, and heavy enough to warm your hands.  Made in Portland, Maine by Rachel Herzer, they are an exercise in elemental simplicity. Smooth inside and out, they're a joy to drink from.  
Each cup is unique, there may be minor variations in color, size, and shape. 
5.5 oz. 
Handmade in Maine. 
View full details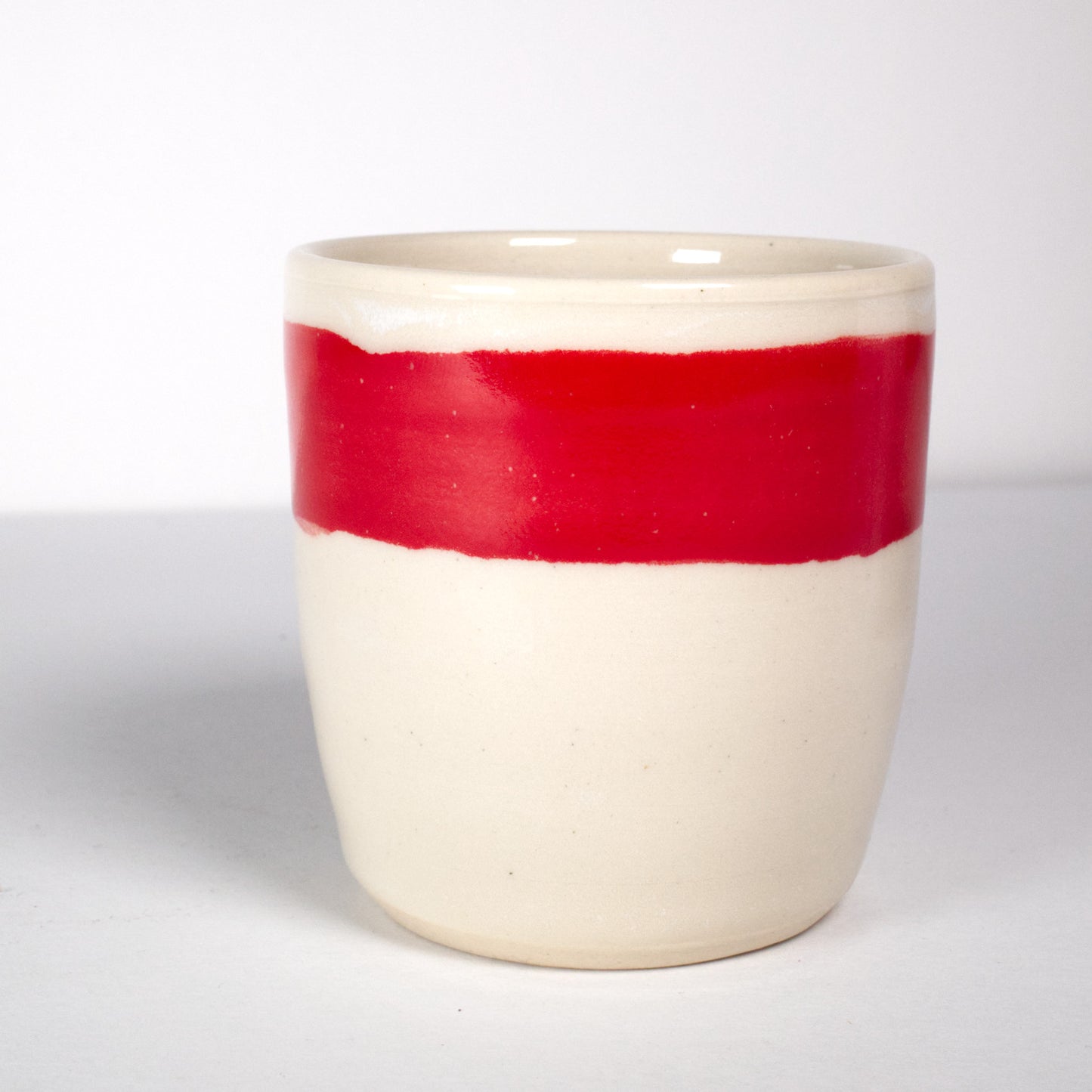 Little Red Ceramic Tumbler & Jasmine Green Tea: A Delightful Gift
Love that the charming cup and tin of tea are both designed with celebratory red flourish! I was surprised at how fast the delivery was from Maine to the West Coast. I caught a problem indicating that my order was not filled out correctly and sent an email about it. I got a response within minutes; they had already recognized and corrected my mistake. A bit later one of the owners took the extra step of following up with a personal phone call. Kudos for the quality of both products and for the unusually high level of customer service!
A perfect namesake vessel.
The Little Red Cup Tea Co. has found a perfect namesake vessel. Feels great in the hand and holds just the right amount of tea. Nice to look at, too! Fair trade organic tea from a local business enjoyed in a cup made by a local artist -- what more can you ask for?
Bounces!
It does indeed keep a serving from cooling so quickly. I must say found the littleredcup not as exciting as in the photo--considerable slippage in painting the red band.
But having said that, I bring a great virtue to your attention. Virtue as a physical strength, and virtue as a spiritual attribute.
While washing up, we dropped it onto our stone kitchen floor, from a great height, five feet probably. The cup bounced back up to nearly the original height,
THEN BOUNCED AGAIN, and we grabbed it. It was not broken, not even chipped. Isn't that a wonderful thing?
Perfection
This little gem is the perfect size to warm my hands, a comforting feel as I enjoy that first cup of tea in the morning. Simple and earthy, the way I like it. Would love a little teapot to match. I am the only tea drinker in my home so a single serving pot to accompany my tumbler would be wonderful.
Great Cup
This is a great little cup. It has a wonderful feel; it is solid, but not heavy, small but not delicate. The red slip band has just enough grip that it does not feel like it will slip from your hand.
Nice Package!
Michael or whomever does the packing - IMPRESSIVE. Handmade, elegant solutions, what I would expect from Connellys. And of course functional - they arrived intact and lovely. Oh, and did I mention the turnaround time was like, 20 min.? Did someone drive them to my door? Thanks and thanks
Channeling Uncle Iroh
I use it to remind myself to take my time - enjoy the aroma, taste and temperature and be in the moment. Even when things are rough.
such a relief
I was so pleased you had Wuyuan Black, my favorite Chinese, tea in stock. Both an existential relief and physical one every day at 3 p.m. with a little milk and sugar. ahhhh.
First time order.
Ordered the tea for our son as a Christmas gift. The process was very easy. Reciter tea when promised.