Regular price
Sale price
$24.50
Unit price
per
Sale
Sold out
$0.84/serving
A luxurious jasmine-scented white tea from Hubei Province. As is tradition this silver needle tea is made from just the bud of a big leaf varietal, but with the added step of scenting with organic jasmine flowers. Instantly recognizable by its silvery sheen and characteristic downy hairs, this is a delightfully subtle tea— fruity, floral, and special.
Excluded from promotions 
View full details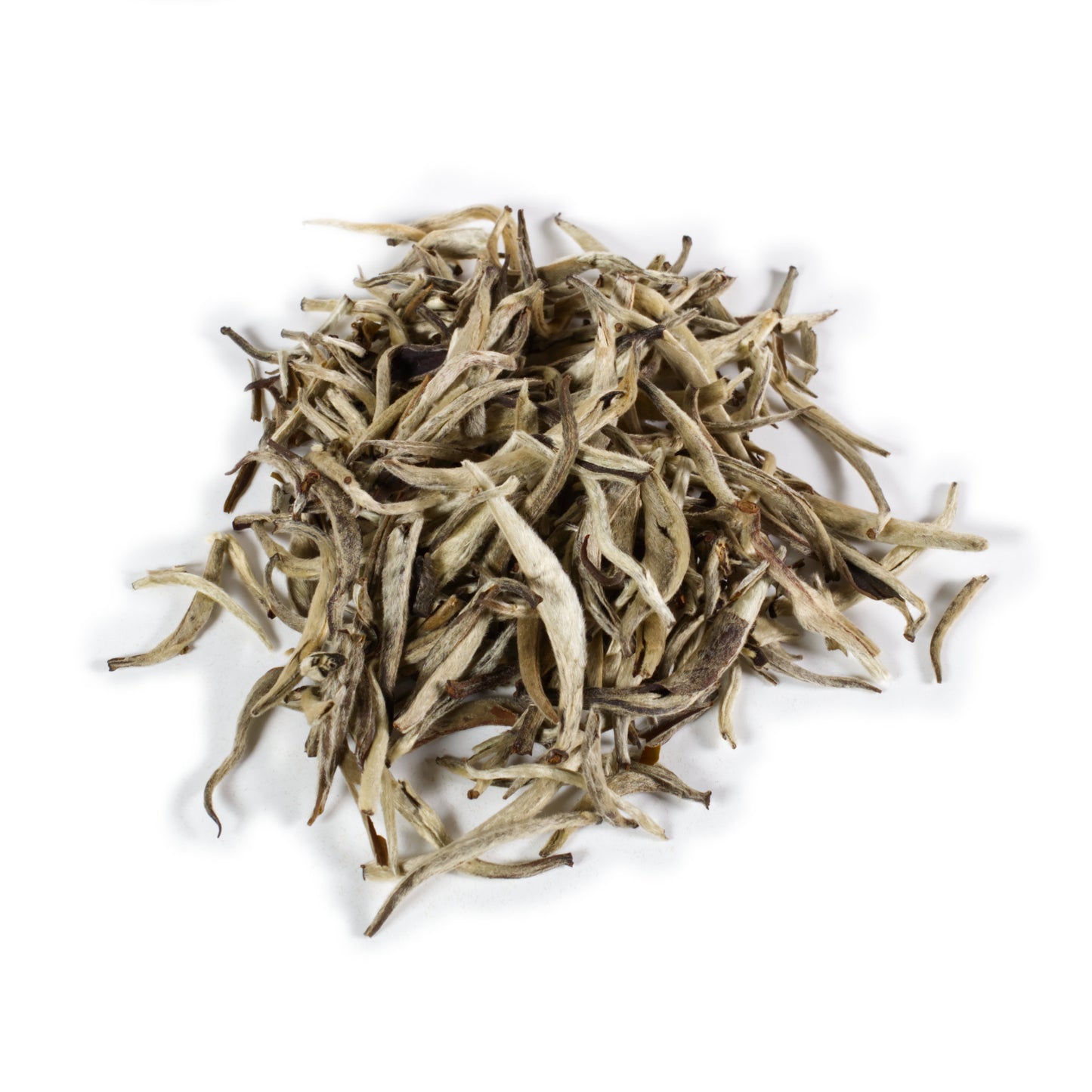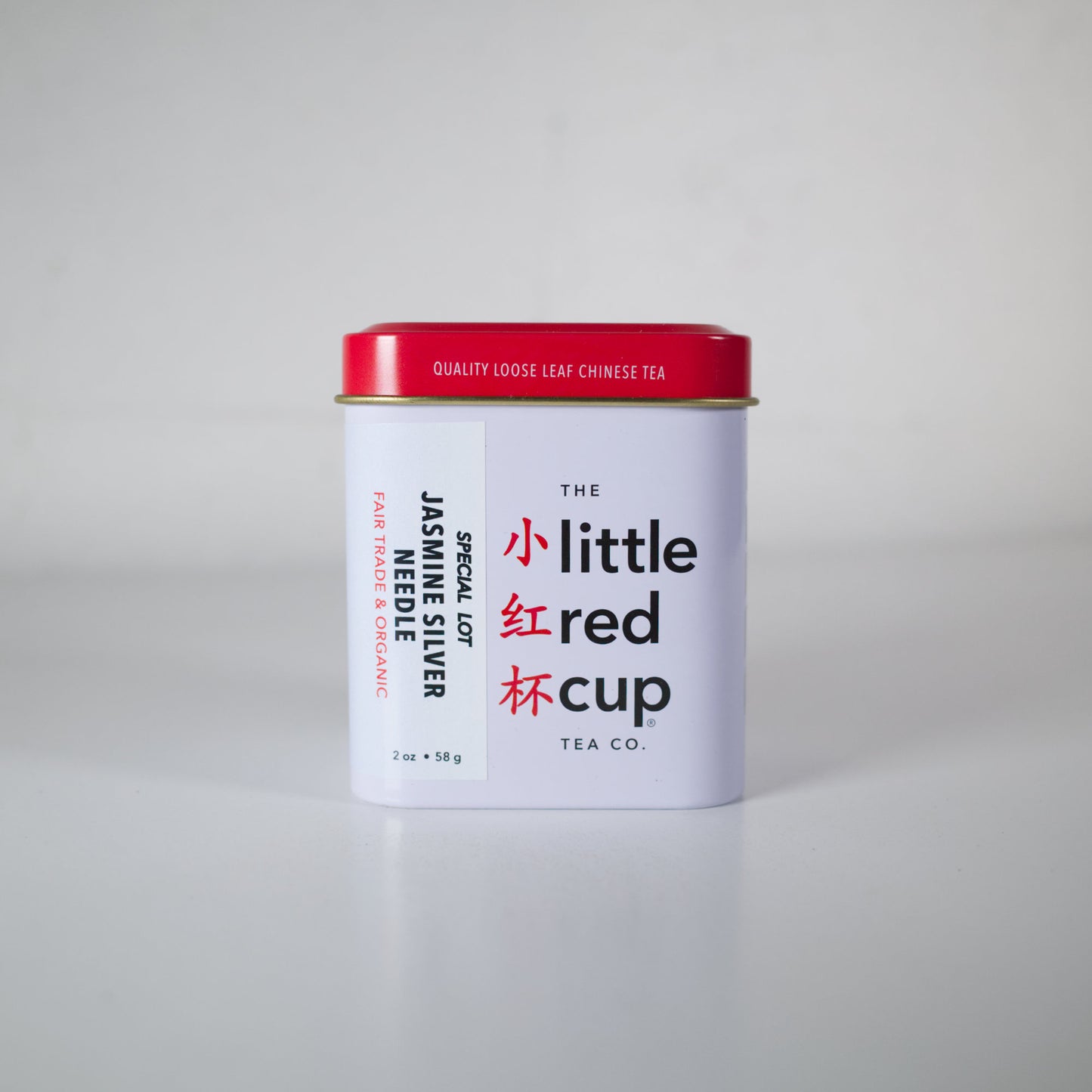 Brewing Guidelines

Fantastic Silver Needle
A really wonderful treat. That is how I would explain this Jasmine Silver Needle. It has just the right amount of jasmine and does not overpower the silver needle at all. Together well balanced they create almost a bubble gum kind of sweetness for me. Love this tea. Tried the sample and then bought 2oz but now I feel like I should have gotten more than 2oz lol
About that serving cost.
As with all our teas, this tea is perfectly capable of being steeped at least twice. Loose teas have more there there, as it were, than does the powdered tea one finds in tea bags. We've been drinking this tea for roughly a year, and yesterday I made a pot (32 ounces) in the morning, then resteeped not just once, but twice. The second steeping was for 3:30, and the third for four minutes. I would call the third brew a little weaker, but by then, the hour was approaching 3:00PM, and that's about when I need to ease off anyway. This is not merely a great tea, it's an economical tea as well, as are all our teas.
Jasmine Silver Needle
This tea is amazing!! You get that hint of jasmine, and it's a lovely cup of tea that I like to sip on throughout the day. Sometimes I will just make 1 cup at night before bed, as it doesn't have much caffeine. It goes down really smooth and it just soothes me. It smells delicious too!
I'm a sucker for all of Little Red Cup teas though. :)
Organic jasmine silver needle
Truly some of the best jasmine tea I've ever had! I will be purchasing this exclusively from little red cup from now on!
A delightful tea!
This tastes like Silver Needle with one or two fresh jasmine flowers floating around in it, with a beautiful fragrance and just the right amount of jasmine. I purchased a sample recently and just ordered 2 tins (one for me and one for a gift). Relaxing and soul pleasing are the best words I have to describe it, it's wonderful. Little Red Cup, you have the best teas!
Silver Needle
Absolutely wonderful product. The jasmine flowers were the perfect accent to the white tea. Aroma and flavor were for sure top tier. Will absolutely buy again!
One of the finest teas I've tried.
This is some top-shelf tea here. It's fragrant without being overpowering, and is surprisingly resilient, with an enhanced flavor even after multiple infusions.
Delightful!!
Delightful, smooth and fragrant jasmine tea. Fabulous company, as well.
Tastiest Tea In Town
This tea is incredible.... enough said.
really lovely tea
This tea is just exquisite...delicate with the perfect hint of jasmine. A wonderful, calming addition to your day.