Regular price
Sale price
$15.50
Unit price
per
Sale
Sold out
$0.22/serving
Our special organic Green Mao Jian Tea (毛尖花), is an unusual mountain-grown tea from western Hunan Province. The tea is named for the abundance of tiny hairs covering the leaves when they are picked in the spring and for the sharply pointed shape of the leaves once rolled in the finishing process.
Green Mao Jian Tea is one of the most delicate green teas we have seen. Steeped normally, it produces a lovely pale green brew with meadow notes and light forest scents. A stronger brew may be obtained using more tea leaves, warmer water and a longer steep time. Even then, this tea is not bitter. An excellent tea for those who want to enjoy a green tea without the punch that so many ordinary greens carry.
Our organic Green Mao Jian Tea is pure whole leaf organic Chinese tea, Fair Trade certified and sublimely drinkable. A marvelous tea to accompany you throughout a busy morning and into the early afternoon, a tea both for the dedicated tea consumer and one for the casual tea drinker as well.
Green Mao Jian is available by 3 oz tin or by the pound. Wondering if you'll like it? Try a taste! Tasting samples are available for all our standard teas and good for two cups.
View full details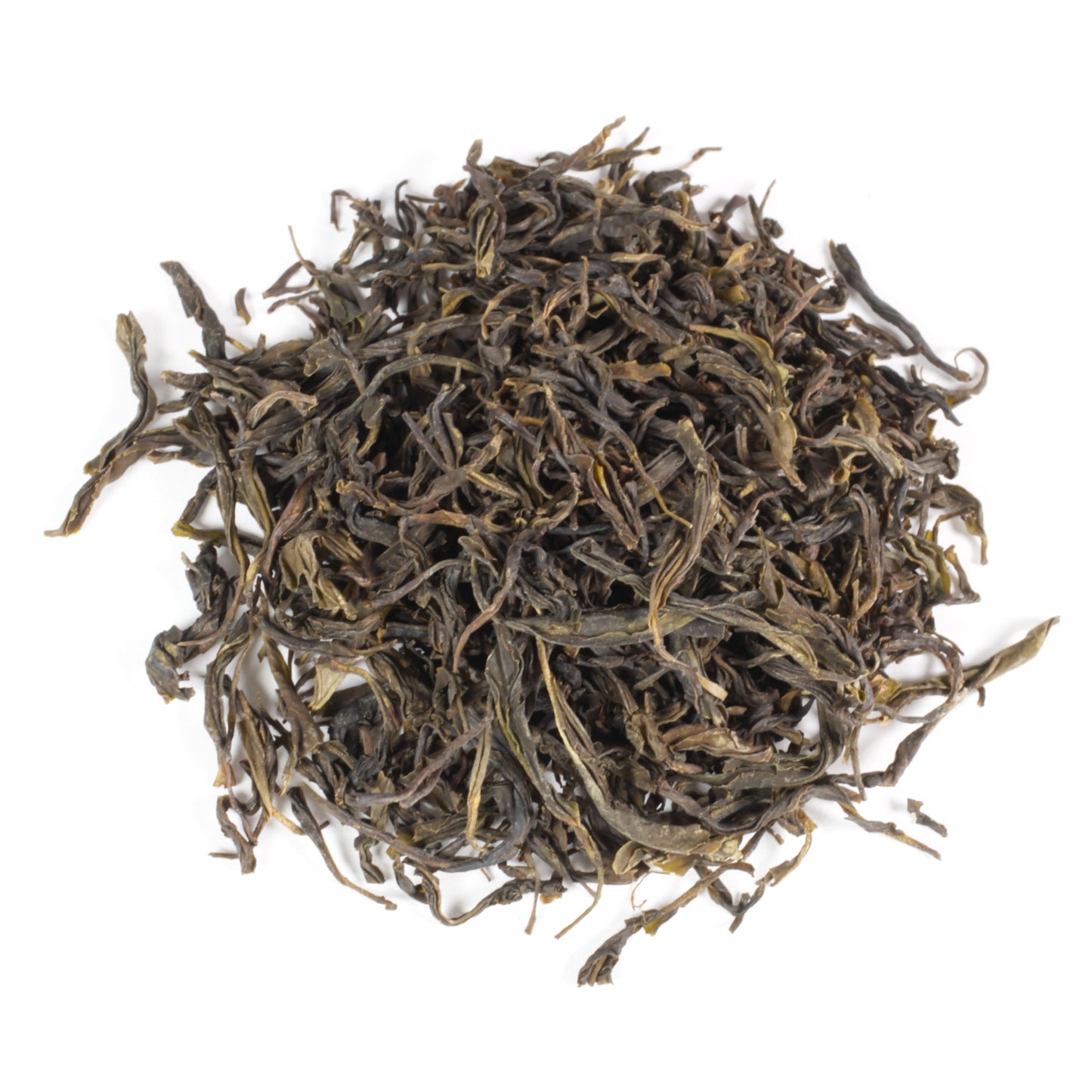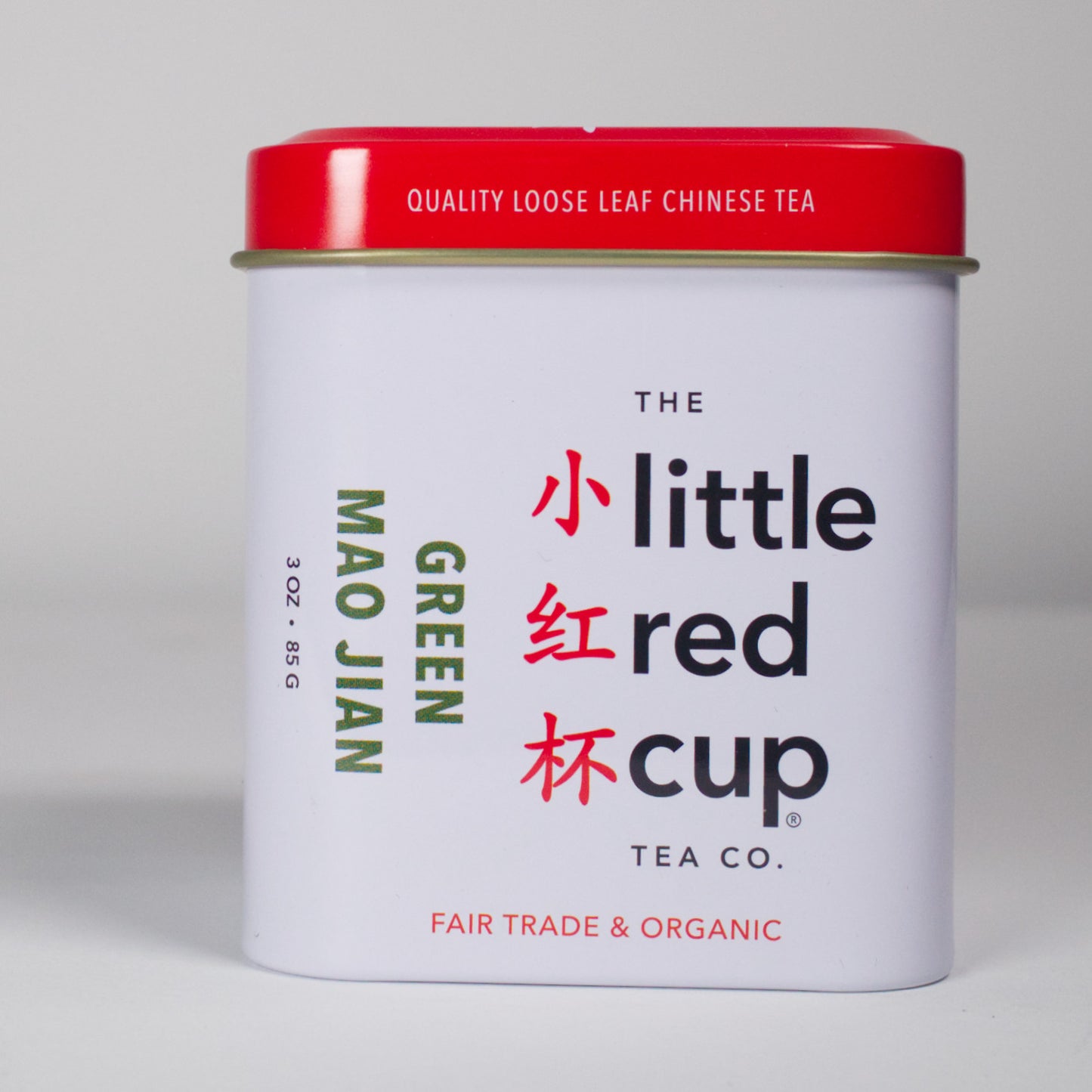 Brewing Guidelines

Beautiful tea with heart
We most often buy the green mao jian, often form our local coop. As the teas is so good and popular, the coop is often out and I have had the great pleasure to order directly from the Little Red Tea Cup website. To my surprise I got a personal note from one of the owners with a beautiful welcome and offer to deliver my tea purchase to my house in Portland when possible in their schedule. This extra touch, felt so warm and neighborly and made me enjoy their excellent tea all the more! My son who suffers from Lyme disease, feels that this tea helps energize him and get him through some very tough days. I can only think it is the warm hearts behind the tea that help make it extra special and healing.
Perfect!
This is the perfect tea if you love green tea, but tend to over-steep your tea. Having a toddler, most days I will start a cup of tea and be pulled away for all manner of toddler "emergencies", leaving my tea steeping on the counter. When I return 5-10 minutes later (occasionally, even longer), I know that the Green Mao Jian is not going to be overly bitter and unenjoyable.
Great tea
Your tea is delicious and always delivered in good shape
Best green tea outside of China
I have visited China frequently and the green tea served at business meetings is unlike any tea in the U.S. So imagine how excited I was to try this tea and find it was very close to the real thing! And made in my home state of Maine to boot! I have just placed an order to sample many more of your fine teas. I can't wait to try them. I am likely to abandon tea bags forever. Thank you!
Green mao jian
Mild and soothing for someone who drinks multiple cups a day as part of my cancer preventive regimen. Happy to support a local business. Excellent service.
Amazing green tea!!
Loved it!! So delicious even through a second and third cup. Won't buy tea from any other place!
The best green tea!
I have sampled nearly all of the varieties of green tea from little red cup, and Mao Jian is my favorite, second only to theirGreen Eyebrow. Earthy, light flavor, never bitter, and terrific hot or iced. I have so much regard for this little company and the quality and authenticity of their tea.
Delicate Deliciousness!
We are very much enjoying the green mao jian. Light, bright, crisp, and delicate. Just delicious!
Best tea ever
I've purchased from this tea company several times and I have never been disappointed. Their tea is fresh and I love the taste.
My new favorite Tea!
This tea has a great mild flavor. I have since bought a tin for home and work to enjoy no matter where I am.