Regular price
Sale price
$15.50
Unit price
per
Sale
Sold out
$0.23/serving
Jasmine Green Tea (Molihua Cha, 茉莉花茶) is perhaps the most famous of all Chinese teas. Usually a combination of green tea and fresh jasmine flowers, Jasmine Green Tea has been made for at least 800 years. In Beijing, and indeed in most of northern China, this is the go-to tea served to welcome guests. 
Our Fair Trade, Organic Jasmine Green Tea is grown and processed in WuYuan County in northeastern Jiangxi province, a combination of fresh Green Tea and jasmine flowers, organically grown by the same farmers who grow the tea.
Jasmine Green Tea comes in many styles – loose leaf, rolled into small balls, even hand-bound into large balls that open into a sort of tea-flower. We offer a fine, loose-leaf Jasmine Green Tea, one that produces a brew of a lovely yellow hue with a powerful jasmine scent. For us, Jasmine Green Tea is an all-day treat. 
We usually start with a tablespoon of tea in one of our smaller glass teapots, then after a second steeping, add a bit more tea with the third helping of hot water.
Jasmine Green Tea is warming in the winter, refreshing in the summer, bright enough to help get the day off to a good start and sufficiently mellow to be enjoyed all day long.
View full details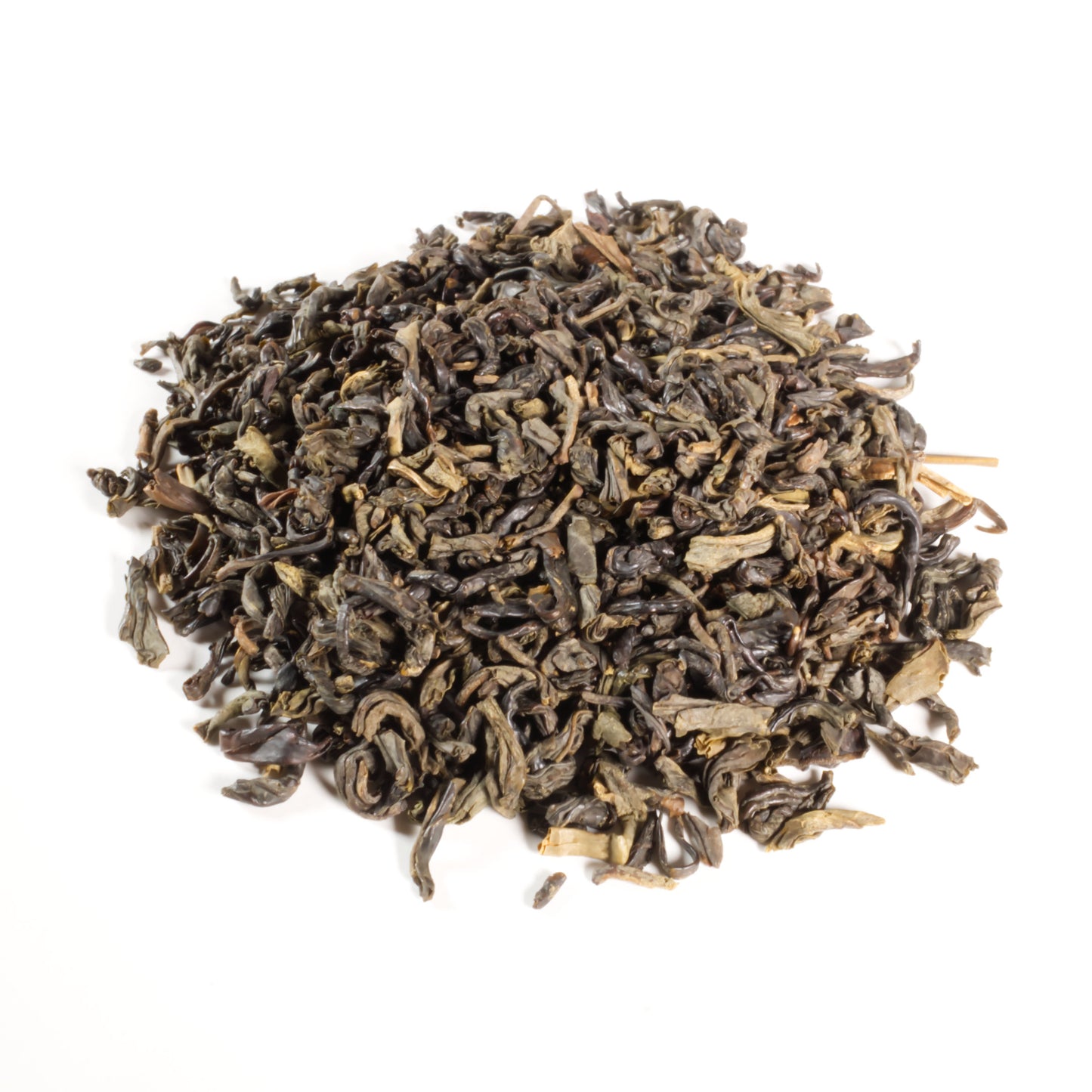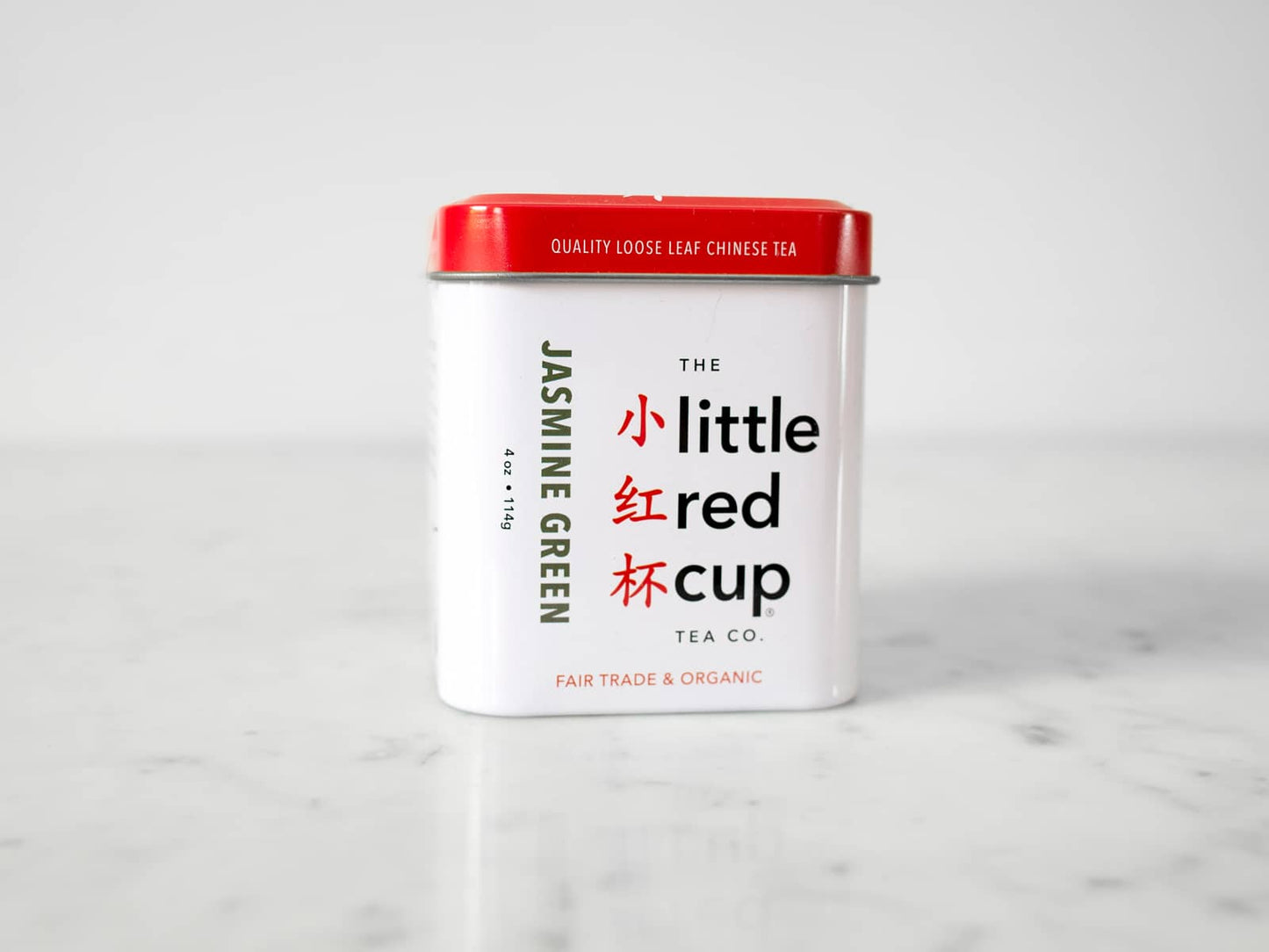 Brewing Guidelines

Drinking tea
I studied tea with a tea master and have been smelling and grading tea for my own drinking. This is an excellent tea I purchased while visiting Maine at a country fair where they generously had tea sampling and I was convinced of its excellent quality and now the only tea I drink. The name and containers are so inviting and clever which also drew me to it along with a very informative conversation with one of the owners who successful answered all my questions! Good going guys!
Dreamy and aromatic
This aromatic, fragrant tea is such a get away from it all experience for me...Every afternoon, I brew a pot at work, and just relax and unwind with this dreamy tea...and .Very uplifting!
JASMINE TEA IS A GIFT FROM GOD
I'm grateful that teavanna closed because I wouldnt have found this beautiful company, and this tea is so much better than theirs!
Oh so good
As tea goes, this one is less a morning beverage and more a mystical union. It will whisk you off to a Zen Buddhist hermitage in the T'ien Shan mountains to watch the sun rise... I highly recommend...
Love this tea
This is my first time at buying from Little Red Cup. This tea is so good and I certainly will purchase more tea from them. Plus delivery was very quick.
Delicious Jasmine Tea
It's just a delicious Jasmine scented green tea. It's well balanced, not overly floral and it's great both iced and hot. I typically use a very short steep time for the first brew and I find that it's good for at least 2 to 3 steeps after that if I am enjoying it hot. Iced, I might discard the first and use just enough water to cover the leaves for the second steep, leave that nice and long, add some honey to balance the stronger taste and pour into a glass full of ice and stir.
New favorite everyday tea
This tea is wonderfully smooth, and it's a great way to start the morning. Highly recommend!
An instant favorite.
I received a sample of this tea as a gift and almost instantly decided that this will need to be a staple in our pantry. This tea has a gorgeous jasmine fragrance and smooth flavor that evens out beautifully, especially in the second brew. Cannot emphasis enough how much we've been enjoying this tea. And, the packaging is lovely!! The tins are so sweet, and I really appreciate that they are unlined.
Wonderful tea!
Delightful, fragrant tea. Service was fast. Well packaged. I will certainly be purchasing more from The Little Red Cup.
A beauty among a popular flavor
Delicate. No sharp edges. Not like your typical jasmine green teas. Gentle aroma and flavor if you follow instructions. Just steep it longer if you want the flavor and color of jasmine green found in most Chinese restaurants. A good jasmine green tea can remind you what this popular flavor is capable of if done right.